Test Report: Definitive Technology Mythos XTR-50 Speakers Page 2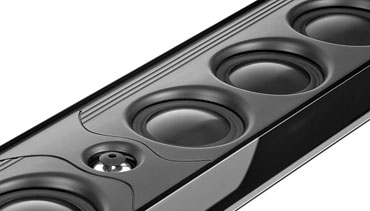 SETUP
Although the XTR-50 was obviously designed for on-wall use, Definitive Technology includes hardware that lets you place the speakers on a table or a TV stand. A smoked-plastic base attaches to the speaker for vertical (i.e., left or right channel) use, and two feet attach to the back of the speaker for horizontal (i.e., center channel) use.

I, being of sound mind and body, chose to attach the XTR-50s directly to my wall, surrounding a 72-inch projection screen. While the back of the speaker has two slots that allow it to be hung from screws, Definitive also supplies a slim metal mount that makes the process easier. I had the front three speakers mounted in 10 minutes, using nothing but a powered screwdriver and drywall screws. If you want to conceal the speakers by running the wires through the walls (which you should), you'll need to set aside more time.

Just as a sleek designer dress has no room for a wallet, the XTR-50 has no room for speaker-cable binding posts. Def Tech instead provides a connector with tiny screw terminals. I like these better than spring clips, because they provide a more secure connection and are easier for large fingers to handle.

Because the 3.5-inch dome woofers have scant output at low frequencies, you'll need to take care in selecting the subwoofer crossover point during setup. As you can see in the extended lab notes online, even the Gem's two 3.5-inch cones can outthump the XTR-50's six domes. A crossover setting of 100 Hz filters out enough bass to prevent the woofers from disintegrating when you play the XTR-50 loud. It's possible that the relatively high crossover point will let you localize the bass - i.e., pick out by ear where it's coming from, which isn't supposed to happen - but you can fix that by placing the sub near the center speaker or, better yet, using two or more subwoofers.
LATEST VIDEO