Ten New Apps You Can Stream to Chromecast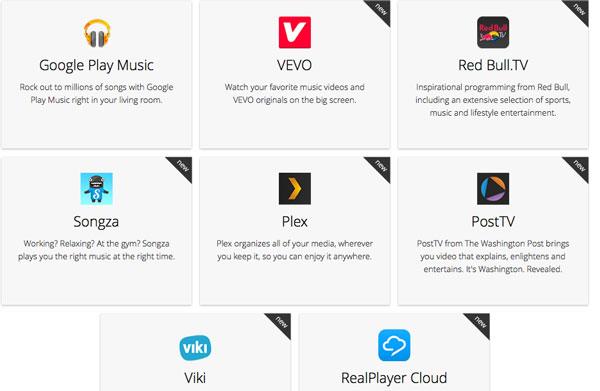 Chromecast, Google's streaming dongle, has continued to add apps since its launch in August. Now, just in time for the holidays, ten more apps have been added for Android and iOS phones and tablets.
In the past few months HBO Go, Hulu Plus and Pandora were added to the original list of Netflix, YouTube, Google Play TV & Movies, and Google Play Music. The new apps make it easier to stream from online music, videos, podcast services, and home media libraries and DLNA devices.
New video apps include: VEVO music videos, Revision 3 popular online video series (Android only), "Red Bull.TV" extreme sports on demand, and Viki online videos from around the world. Post TV streams Washington Post news videos from an iPad and Beyond Pod streams podcasts from Android phones.
The free, ad-supported Songza app is the lone music addition. Songza offers playlists created by music experts to suit specific moods or activities. Listeners can choose playlists for cooking, studying, or for certain times of day (e.g., bedtime, unwinding, or "Grandpa's Naptime").
Until now, it has been difficult to stream music, videos, or view photos saved to computers and servers on your home network. Plex and Avia have added Chromecast streaming capabilities for watching and listening to your downloaded media. The Plex app is available on both iOS and Android. The Android-only Avia app accesses media on DLNA devices connected to your home network and sends it to Chromecast. Avia is free, but to get full functionality with no ads, you have to upgrade to the $2.99 app version. The Plex app must be connected to a computer running Plex media server software to stream from a smartphone or tablet and requires a subscription fee if you want to access all its features.
The RealPlayer Cloud app lets you stream personal videos from a smartphone or tablet to Chromecast. Videos must be uploaded in order for you to access them on your mobile device and free storage is limited.
Again, Chromecast has no apps of its own so look for the Chromecast icon on apps you're interested in. The apps run on smartphones and tablets and existing apps must be updated for compatibility (iOS 7 and Android often update automatically). As new apps are added, the Chromecast dongle is becoming a viable streaming media choice. At $35, it could be a stocking stuffer.
LATEST VIDEO