Tech Trends 2013: Audio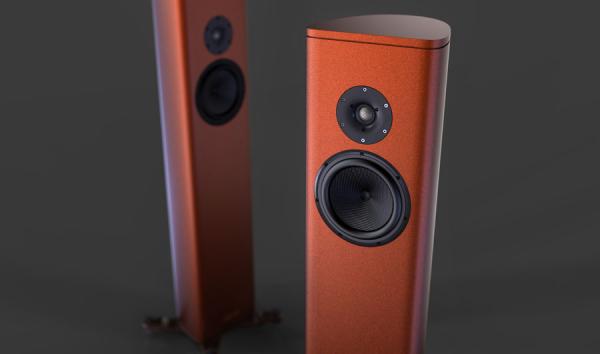 Speaker Standouts
An old-school category sees surprising innovation
One could argue that this spring will see as much innovation in the speaker category as in headphones. But when you think about it, that's not really so surprising. After all, speakers can be almost any size, almost any shape, almost any weight, while headphones will always have to be small and light enough to fit on your head.
A perfect example can be found in the new Magico S1, a thoroughly extravagant design that counts as a compact, affordable model for the manufacturer. The S1's enclosure measures 10 x 9 inches in cross-section and stands just short of 4 feet high. Yet each one weighs a back-breaking 95 pounds. That's because it's made from a thick aluminum extrusion that minimizes cabinet vibration and resonance; in some ways, it seems more like an aerospace product than an audio product. Its 1-inch beryllium tweeter sits atop a 7-inch woofer with a cone woven from carbon nanotubes. Given the price of $12,600 per pair, it's easy to ridicule the S1 as nothing more than a fancy audio bauble—until you've heard it.
On the opposite end of the cost spectrum are two equally astounding new offerings from Jamo, the S25 and the larger S35, both of which look like they were designed by Deadmau5. The new Jamos use the same radical driver arrangement, with a dome midrange firing up toward a down-firing dome tweeter. Each dome acts as a diffuser for the other, dispersing sound evenly across a nearly 360° pattern. The S25 uses a 2.5-inch woofer, and the S35 has a 3.5-inch woofer. Both are available in various paint finishes and grille colors — or, if you like the look of the drivers, you can use 'em without the grille. A package of five S25s goes for $699, while four S35s plus a matching midrange-tweeter-midrange horizontal center speaker runs $999. Jamo offers a wireless sub to go with either system for $599 in black or white.
Despite the radical designs of the Magico and Jamo speakers, neither has garnered the kind of buzz that the GoldenEar Technology Triton Seven has earned. At $699 each, the Triton Seven costs less than half as much as GoldenEar's $1,499-each Triton Two (S&V's 2010 Audio Product of the Year), yet seems to offer the same amazingly precise center imaging and a similarly natural tonality. Unlike the Two, which has an internally amplified bass section, the Seven is totally passive, with two 5.25-inch woofers, two 8-inch passive radiators, and the same High-Velocity Folded Ribbon (HVFR) tweeter. This simple, straightforward little speaker easily got more "Best of Show" awards than any of the whiz-bang, cutting-edge tech products that debuted at CES. Sadly, the Seven won't make it to stores until June.
In fact, simple and straightforward speakers might be a microtrend this season. Here's another example: the new super-affordable Polk Audio TSX line. There's nothing especially new about the TSX speakers except how well made they are for the price. All models feature 0.75-inch-thick medium-density fiberboard cabinets, with curved sides for added stiffness. The driver choice and general design concept mirrors those of Polk's higher-priced speakers. At CES, Polk showed a cutaway version of the top-of-the-line TSX 550T, which revealed an amazingly complex and well-executed internal bracing system — not bad for a $999-per-pair speaker, especially one with two 8-inch woofers, two 5.25-inch midranges, and a 1-inch tweeter. The line reaches down to the $199-per-pair TSX 110B bookshelf speaker, with a 5.25-inch woofer and the same 1-inch tweeter.
"Affordable" is not an adjective many would attach to the Sonus Faber speaker line, but you could certainly say the company's Venere line, which S&V reviewed last December, is relatively affordable. That's why we're happy to see Sonus Faber extending the line with several new models. The $698-each Venere Wall is intended for on-wall and surround applications. It has dual 5.5-inch woofers and a 1-inch tweeter, plus a wall bracket that lets you adjust the horizontal angle to better direct the sound where you want it. The flagship of the line is the Venere 3.0 tower, a 3.5-way (woofer with high-pass filter, woofer, midrange, tweeter) design that costs $3,500 per pair in black or white and $4,000 per pair in walnut. There's also the new Venere 2.0 bookshelf, a larger model than the Venere 1.5 we tested in December, with a 7-inch woofer and a price of $1,700 per pair.
Like Sonus Faber, Thiel Audio has also been going through a lot of changes. Company founder and namesake Jim Thiel passed away in 2009, and last year the company was purchased by an investment group from outside the audio industry. Yet new models, every bit as sonically stunning as Thiel's past creations, continue to emerge. The latest is the new CS1.7, which debuted at CES. It continues the phase-coherent design and first-order crossover that have been Thiel hallmarks for decades. The aluminum diaphragm of the 6.5-inch woofer is scalloped for extra stiffness, and the voice-coil former is cut to fit precisely into the scalloping, making for an incredibly stiff structure. The long slot port in front expands the port over a larger area of the fabric grille, so the fabric doesn't load down the port as much, and the slot is also said to reduce the "chuffing" noise that's all too common with speaker ports. Although it's the lowest-priced of the angled-back towers for which Thiel is known, the CS1.7 still costs a whopping $5,490 per pair. But based on what I heard at CES, the price seems about right.
Yet another high-end brand introducing a relatively low-priced product is Revel, which is at long last launching its Performa3 series. It's a big line: two towers, two minispeakers, two center speakers, a surround speaker, and two subwoofers. The line starts at $1,200 per pair (a new low for Revel) for the M105 minispeaker and extends to $6,000 per pair for the F305 tower. There's nothing outwardly exciting about these speakers; the exciting part is simply that they benefit from the same wise and meticulous engineering that has always characterized Revel speakers.
Sony is not a name many associate with high-end speakers, although its $27,000-per-pair SS-AR1 and $20,000-per-pair SS-AR2 have won recently won rave reviews. The new, less expensive ES-series speakers may heighten audiophiles' awareness of Sony's fine workmanship and engineering—but still, they're hardly what you'd call "popularly priced." The SS-NA2ES tower speaker lists for $10,000 per pair, and the SS-NA5ES bookshelf speaker lists for $6,000 per pair. Both use a lot of the same technology and construction as the AR-series speakers, including Scandinavian birch plywood cabinets. Unusually, the ES-series speakers employ a tweeter network — two 19mm tweeters with a 25mm tweeter centered between them — in order to create broader dispersion at high frequencies.
The artisanal, handmade American ethos thathas become so trendy in products like cheese and bourbon is also influencing some high-end speaker makers. The best example is DeVore Fidelity, whose speakers are built in a factory in the former Brooklyn Navy Yard. DeVore's traditional manufacturing philosophy extends to its designs, which have shown remarkable consistency over the years. In fact, the new Gibbon X (or 10) features the company's first new tweeter since 2004. The driver arrangement is unusual: woofers in a ported enclosure, a midrange in a transmission-line enclosure, and the new tweeter below and to the side of the midrange. With a claimed flat 8-ohm impedance and 91.5-dB sensitivity, the $11,000-per-pair Gibbon X should work well even with an 8-watt single-ended tube amp.
You may have noticed that most of these speakers fall into the category of traditional box speakers; that's in part because new home theater and architectural speakers are usually introduced in the fall at the CEDIA Expo. Yet we will see a couple of interesting architectural speakers this spring.
One comes from Totem Acoustics, one of the few high-end speaker companies with the guts to enter the architectural speaker market. The company's new Kin is one of the most interesting in-ceiling speakers I've seen, and I bet it's one of the best-sounding. Totem Acoustics designed the Kin for use in the left, center, and right channels of a home theater, or just for plain ol' stereo if that's what you crave. It offers two 4-inch woofers, two 5-inch passive radiators, and a 0.75-inch tweeter, in the "angled down" design that I've found to be the best for LCR-type ceiling speakers. It's just $750 each, too, which is surprisingly affordable for what it is and double-surprisingly affordable for a Totem Acoustics product.
Surely the year's most interesting in-wall speaker (or most interesting speaker, period) comes from Bang & Olufsen. The BeoLab 15 is motorized, so its top half tilts down automatically when the system is powered up, giving the internal midrange driver and tweeter more freedom to spread their sound around. The BeoLab 16 woofer module, which also mounts flush with the wall, incorporates two 4-inch drivers in a horizontally opposed configuration intended to cancel vibration. Internal amplifiers provide 195 watts of power, and the entire package costs $4,595. If you're looking for a speaker that will astound your guests before they even hear it, this is the one.