Taking Control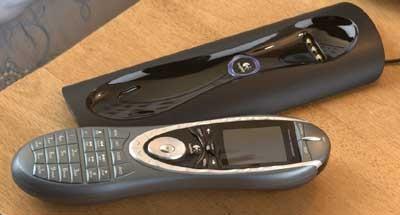 Sadly, many people have a love-hate relationship with their remote controls. On the one hand, the thought of actually getting up to change channels or adjust the volume is unthinkable. On the other, having a coffee table populated with five or more remotes is commonplace, transforming a "simple" operation like watching a DVD movie into a juggling act. The Harmony 880 "smart" remote control, the company's first with a color display.
While many TVs, cable boxes, and A/V receivers come with so-called "universal" remote controls, they often lack some of the buttons necessary for total system operation. Moreover, many universal remotes that can provide total control are hard to learn and use, or practically require a Ph.D. to program.
Two companies that have made great strides in making remote control simple and intuitive are Logitech and Philips. Logitech's Harmony line of remotes, which burst onto the scene in 2003 (and won a Sound & Vision Reviewer's Choice Award for the original SST-768), uses traditional hard buttons. For its Pronto line, which was launched at the custom installers' Expo in 1998 and changed the whole landscape of universal remote control, Philips chose to use customizable "soft" buttons on a large touchscreen.
Let There Be HarmonyThe latest addition to the Harmony family is the high-tech styled Harmony 880 (available in April, $250), which features the company's first color LCD screen. The new screen is nearly twice as large as the text-only displays on previous models, with room for more information and more detailed graphical icons, but also allowing users to download favorite photo images to the remote. Like all Harmony remotes, the Harmony 880 uses a guided, Web-based interface to take the drudgery [and difficulty] out of programming it. You can set it up to control every element of a full-scale home theater system in less than an hour. And the company is renowned for its live, non-India-based technical support to resolve any glitches.
Harmony takes an activity-based approach to system control, with single-button commands like "Watch a movie" or "Listen to music" that trigger a whole string of discrete operations. To accomplish this, Harmony's patented "smart state technology" keeps track of what each component in the system is doing (if anything) at any moment. And if things get out of whack, a handy Help button walks you through getting things back the way they should be. The remote's rechargeable lithium-ion battery - supplied with a charging cradle - is said to provide one to two weeks of system control per charge.
LATEST VIDEO