Take It Outside, Kids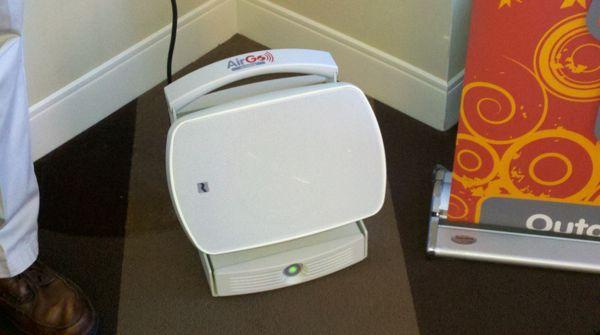 Russound showed off the company's AirGo Outdoor Sound System, which Russound says is "a portable amplifier speakerdock for an Apple® AirPort Express". (You supply the AirPort Express.) The single-point stereo speaker sounds fantastic, and the incorporation of the AirPort Express means you can stream music from any compatible device to the AirGo wherever you can connect to your network. Since AirPort Expresses can simultaneously be used as a WiFi repeater, the AirGo will also act like a local hotspot and extend your network for backyard parties. Because the amplifier is a beefy 40 watts, anything but a car battery (pretty difficult to carry) would be drained in short order. So the AirGo Outdoor Sound Station is designed for AC use only. Not to worry, the speaker is fully weather-resistant (don't plan on submerging it, though). According to Russound, the AirGo Outdoor Sound Station is just the beginning of a series wireless and outdoor products.
Pricing is $399, and it's available now.
LATEST VIDEO
WHERE TECHNOLOGY BECOMES ENTERTAINMENT