SVS Offers Sensibly Priced Optical & Balanced Cables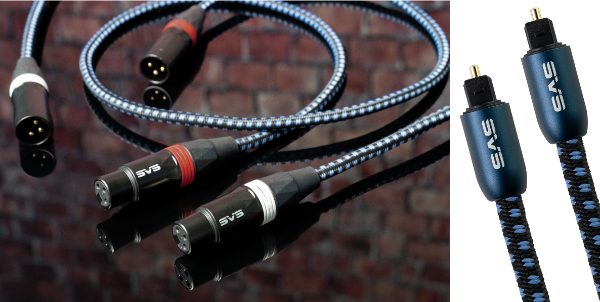 The letters SVS immediately conjure images of subwoofers and home theater speakers but the Ohio-based company also offers a growing line of SoundPath accessories that has been expanded yet again, this time to include sensibly priced optical digital and balanced XLR audio cables.
Sheathed in a flexible, easy-to-grip braided-cotton jacket, the SVS SoundPath Digital Optical Cable is a polished monofilament design with aircraft-grade aluminum terminals and 24K gold-plated connectors to ensure a highly conductive and secure connection between components. The cable is offered in 1-meter ($30), 2- meter ($35), and 3-meter ($40) lengths and provides a standard Toslink optical-fiber connection for transmitting uncompressed two-channel PCM audio and compressed Dolby Digital or DTS 5.1 signals.
The SVS SoundPath Balanced XLR Cable is sheathed in a PVC jacket wrapped in tightly braided cotton and uses a five-layer insulation system to shield against noise and electromagnetic (EMI) and radio-frequency (RF) interference. The first layer of insulation comprises three individually isolated and 99.99% oxygen-free-copper multistrand conductors plus a second aluminum-wrap layer, and a third 56-strand spiral braid made of high-purity copper. All electrical contacts feature cold-fused 24K gold plating and terminals are made of zinc-alloy coated with black-nickel plating for optimal conductivity.
Intended for use with components that have three-pin XLR connectors, the SVS balanced XLR cable is terminated with lockable, push-button clips to secure the connection and the connector end of each cable has a red or white band to guide proper hookup. Single cables are offered in 1-, 2-, 3-, 5-, 8-, 12-, and 15-meter lengths at prices ranging from $40 to $70. Cable pairs are also available in 1- and 2-meter lengths at $80 and $90, respectively.
"Cables should never be the weakest link in your system, nor should they cost more than your speakers and components," said SVS president Gary Yacoubian. "Through inspired engineering and world-class materials, our new SoundPath Balanced XLR cables maintain absolute signal purity and offer no compromises when compared with much higher priced XLR cables."
All SoundPath cables are covered by a 5-year unconditional warranty. For more information on the new SoundPath optical digital cables, visit svsound.com. Click here for more on the new SoundPath balanced XLR cable. An SVS tutorial on the merits of using balanced audio cables can be found here.