S&V Picks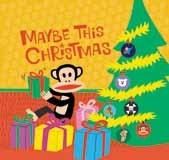 Maybe This Christmas, Various Artists
Here's one of the best various-artist collections in years, focusing on new names like Coldplay, Phantom Planet, and Bright Eyes. Plus you get Barenaked Ladies with (presumably clothed, swaddling or not) Sarah McLachlan. And Ben Folds tells a story involving a gallon of Crisco and a definitely naked Santa. (Nettwerk America) -Ken Richardson
Bluegrass & White Snow , Patty Loveless
O brother, can this sister sing! And the guests around the punchbowl (Ricky Skaggs, Vince Gill, Amy Grant, Dolly Parton, Trisha Yearwood, Emmylou Harris) know their way around a tune, too. The set is reverential when it's "Away in a Manger," but it also gets hoedown for "Santa Train" and "Christmas Time's a-Comin'." (Columbia) -K.R.
Tis the Season for , Los Straitjackets
Spice up your eggnog by spinning this disc from the world's most authentic-sounding surf band. The Straitjackets don their Mexican-wrestler masks to take on Yuletide classics ranging from a garage-rock gritty "Here Comes Santa Claus" to a reverb-drenched, "God Rest Ye Merry, Gentlemen." Definitely the coolest holiday music since The Ventures' Christmas Album. (Yep Roc) -Al Griffin
Django Bells , The Gypsy Hombres
You can have your Christmas music all lush and traditional, or you can have it fresh. The Gypsy Hombres give it to you fresh, taking the usual chestnuts and giving them a Reinhardt/Grappelli Hot Club sizzle. How 'bout a gypsy soulful "Here Comes Santa Claus"? "Blue Christmas" goes to Rio? Or a swingin' and swayin' "Sugar Plum Fairy"? And it's all rounded off, of course, with "Django Bells." (Memphis International) -M.G.
White Trash Christmas , Bob Rivers
He can be as corny as a taco, but Seattle's No. 1 morning man has his finger on the pulse again in ditties like "Have Yourself an Ozzy Little Christmas" and "Osama Got Run Over by a Reindeer." And he gets points for mentioning DVDs in "Be Claus I Got High." (Atlantic) -K.R.
LATEST VIDEO