S&V Picks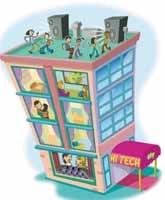 Illustration by Scott Angle
Planning a summer vacation doesn't have to mean skimping on your entertainment needs anymore. The Hotel Bel-Air (Los Angeles), where Hollywood big-wigs decamp, has $2,500 Sony sound systems in most of its larger rooms, while out West, guests at the Zen-like Amangani (Jackson Hole, Wyoming) can unwind to the resort's in-room Denon sound systems. More than 10 miles of cable allow the
entire Elliott Grand Hyatt (Seattle) to operate on a wireless network, and the rooms have Internet-enabled plasma TVs so you can surf at your leisure. Owned by Island Records founder Chris Blackwell, The Marlin (Miami) has WebTV, e-mail, and CD/cassette players in every room. Mobile-phone and PC rentals are also available. Hotel San Jose (Austin, Texas), the official motel of the Austin City Limits TV show, features Rock-n-Reel night, where the band gets to pick the flick. The band jams at 8:00; the movie starts at 9:00. And there's a music and video library - no charge for CDs and just $2 for movies. Everything at Disney's 1,920-room All-Star Movies Resort (Lake Buena Vista, Florida) is dedicated to the magic of motion pictures, while the nearby All-Star Music Resort has 2,000 rooms with jazz-, rock-, country-, Broadway-, and calypso-themed areas. Back in L.A., every room of The Four Seasons has Bose Wave radios, JVC CD systems, and dataports with high-speed T1 Internet access. You can use the digital NXTV system to watch 65 cable channels or order pay-per-view movies and then pause, rewind, or fast-forward them, just like you would with a TiVo box. All 106 suites have Sony DVD players, and by year's end the rest of the rooms will, too.
- Jamie Sorcher
SAVE THE DRIVE-INS
There used to be over 5,000 drive-ins; now there are fewer than 500. The pop-culture equivalent of the condor, they're disappearing fast, replaced by housing developments, strip malls, Home Depots, and other bland harbingers of

homogeneous sprawl. The first drive-in opened in Camden, New Jersey, in 1933, but you could scour every inch of that state and not find a single one today. So if your summer travels offer the chance, and even if it means going out of your way, take the time to check out every drive-in you can. Go to drive-ins .com, driveintheater.com, or driveinmovie.com to see if there's one within striking distance. To bone up on their more-interesting-than-you'd-think history, read Don and Susan Sanders' The American Drive-In Movie Theatre ($30, Motorbooks International) and check out their site, americandrivein.com. And if you happen to find yourself in Western New York with an evening to spare, take the Thruway to Exit 48A, head north to Route 31, and visit Middleport's Sunset Drive-In (thesunsetdrivein.com). It'll be worth it just for the great food, and to see how this die-hard institution brings a small town together on a warm summer night. Show them this issue of Sound & Vision and they'd be happy to let the whole family in for free.
HAVE DVD, WILL TRAVEL
If you want DVD in your car but don't have room in the trunk for a changer or in the dash for a player, check out CONCEPT's DVD-868 DVD/monitor combo ($1,799). It fits a DVD player, a 7-inch flip-down screen, a wireless headphone transmitter, one A/V input, and three A/V outputs into an overhead console.
LATEST VIDEO