SurgeX Pinpoints Potential Power Problems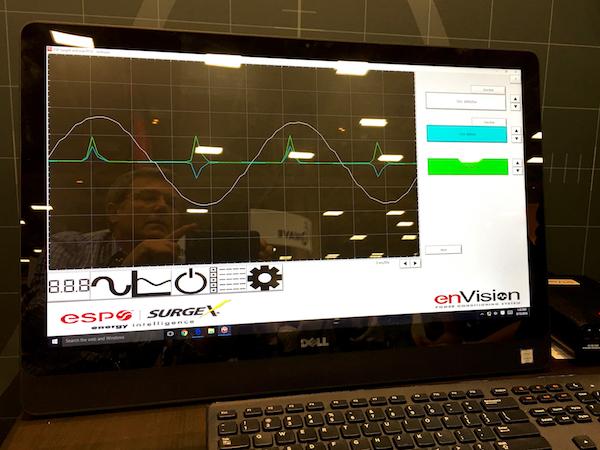 SurgeX
always has the most non-shocking demos at CEDIA, and this year was no exception as the company once again demonstrated "the industry's only surge elimination technology." Called Advanced Series Mode by SurgeX, the proprietary surge elimination technology stops surge energy up to 6,000 volts without introducing other unwanted problems, such as ground contamination or common-mode disturbances. In addition, the method SurgeX uses—unlike many competing surge protection technologies—is completely non-sacrificial, which means SurgeX devices don't destroy themselves as part of the process of stopping an incoming electrical surge.
As any of us who've suffered some major losses due to lightning strikes or other surge-producing events know, having good surge protection can save lots of time and money, as well as prevent painful insurance and replacement headaches for anyone who owns electronic gear. But not everyone realizes that even power disturbances that don't result in component meltdown can have significant effects on the sound and video quality of a home theater or music system.
SurgeX says that "power disturbances strike unprotected, or under-protected, equipment hundreds of times per year." In other words, if your AV gear isn't protected by a good surge protector, that stack of components could be suffering from bad AC as many as one or more times a day, every day. Regularly recurring zaps like these gradually eat away at the circuitry inside your favorite AVR or Blu-ray Player. SurgeX claims to be "the only manufacturer that eliminates these disturbances and provides a full 360 degrees of advanced power protection to keep A/V systems operating at peak performance."
SurgeX goes a step beyond stopping existing power disturbances from harming your system with an analytics tool called Expert Manager, a hardware/software tool combo that identifies and analyzes a broad spectrum of power conditions, including "electrical parameter data, under-voltages, over-voltages, or power outages and surges." Once the data is collected—say over a time period of one to two weeks, or longer—Expert Manager can provide instant analysis of the electrical conditions of the power circuit it's connected to. It can also provide suggested solutions to the problems it diagnoses, which can then be addressed by an electrician or by additional SurgeX devices.
When permanently installed in a customer's system, a SurgeX enVision component with Expert Manager can be programmed to send quality alerts to owners or installers giving them advance warning of potential problems or pinpointing existing issues.
Multiple SurgeX enVision models are available for site diagnostics or permanent installation by custom integrators.