Super Mini Cube: World's Cheapest, Tiniest Audio System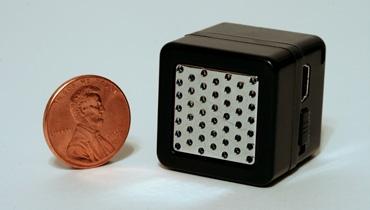 For years, we've read in audio magazines about the quest for the finest this, the biggest that, and the most expensive such-and-such. If it were 2005, I'd probably be addressing that subject right now. But in 2009, it seems rather ludicrous to be writing about extravagant audio baubles while one sits at an Ikea table in a $10 Old Navy polo shirt drinking coffee from Smart and Final. Fortunately, the audio world also offers plenty of gear better suited to today's tight budgets.
In fact, we've recently seen the launch of what may be the cheapest audio system ever: the Super Mini Cube. The Super Mini Cube measures 26mm on each side, making it in essence a 1-inch cube. Into this tiny space, it packs a ¾-inch driver, an amplifier, and a rechargeable lithium battery. It doesn't even need a cord to connect to a portable music player, because a 3.5mm stereo plug folds out from a slot in the side. Expose the plug, stick it in your iPod or anything else with a 3.5mm stereo jack, and you've got a sound system.
In search of a minuscule powered speaker system to use with my subminiature Samsung YP-U3 MP3 player on bike trips, I stumbled upon the Super Mini Cube on Amazon. I then found it even cheaper on USBfever.com. For $9.99, it was simply irresistible.
The Super Mini Cube comes with a tiny elasticized strap you can use to hang it from things. You can also attach it to a keyring. It comes with a short USB cable for charging. Although the box shows it in four colors, I've only been able to find it in black. There's no volume control, just a power on/off switch, so you'll have to use the volume control on your MP3 player.
Those who can't shake the 2005 mindset can take comfort in knowing that each Super Mini Cube chassis is formed on sophisticated molding equipment from only the finest polymers. The chassis is then mated with a circuit board employing advanced surface-mount technology. Final assembly is performed in China, a country that dates its tradition of fine craftsmanship back to the days before the Roman Empire. (And you thought you had to spend thousands of dollars to get an audio product with a good backstory.)
Strangely, although the box says the Super Mini Cube is made in China, no manufacturer is listed.
LATEST VIDEO