Streaming Gets Refined at CES 2017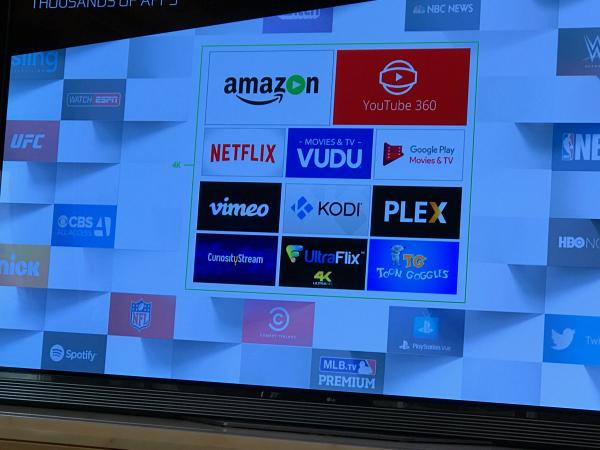 CES 2017 didn't knock my socks off with any groundbreaking news. Still, there were definite trends repeated at every booth corner. Streaming video and music is no longer news. Now companies are coming up with new ways to entice those disenchanted with their current TV provider as they try to capture the cord cutter market. UHD streaming will be increasingly available in HDR as more devices support the higher quality format. YouTube 360 videos are available on TVs and media players that have mouse capabilities. Many media streamer manufacturers are moving forward with voice commands. They will be incorporating Alexa or Google Home for either controlling the device or using the device to control the rest of the home.
In 2016 Sony, Sling TV, AT&T (DirectTV Now) and others vied to lure cord cutters with online live TV options. Not all networks were on board with the idea and licensing deals with CBS and others leave users without a complete TV solution. The combination of online services and broadcast live TV using an antenna dominated CES 2017. Several companies and services offered a combination of free live local channels from a connected antenna and streaming services available in one box, app or guide. The idea is that most premium channels and movies are available through streaming subscription services or video on demand rental/purchase apps. Once you add broadcast live TV, you truly have control over the content you want without paying for bloated bundles with channels you don't want to pay for.
As an alternative to rooftop or tabletop antennas, Mohu has been manufacturing flat antennas that are thinner than a poster board and can hang on the wall. At CES Mohu presented the AirWave, Mohu's new antenna and streaming device that connects to its Mohu TV app where users can access both live local channels via the antenna and online streaming services via the AirWave's wireless connection to the internet. Amazon Fire TV and Stick Apple TV (current generation), Chromecast, Roku's entire lineup, iOS, Android, and web browser. The AirWave won't be available until Spring 2017.
AirTV from Dish is a Sling TV device that adds local channels when an antenna is connected to an adapter. Unlike the Sling TV app, the AirTV is Android TV-based and can add Netflix and any other streaming app available in the Google Play store.
Plex TV has added the ability to watch and record local TV using an HDHomeRun device. Connect an antenna to the HDHomeRun Connect then run an Ethernet cable to your home router to make the live local broadcast channels available to Plex and other apps on Apple TV, Amazon Fire TV, PS 4, Xbox One, and the NVIDIA Shield.
The just announced NVIDIA Shield is one of the top products from CES 2017. It has all the hot new streaming innovations of this year's show. It can connect to the HDHomeRun to add local broadcast channels. NVIDIA has made a deal with Amazon to stream UHD videos with HDR. The game controller can be used for viewing YouTube 360 videos. And, later in the year, it will become a Google Home Voice Controller with enhanced capabilities that take advantage of video on the TV (not just like you find on a standard Google Home).
In an interview with Jody Holtzman, Senior Vice President of Market Innovation for AARP, he discussed how voice control is the best thing that has happened to simplifying technology for not only the older crowd, but for everyone who uses devices. "Voice is it. Voice is what takes the friction out. If I don't have to worry about reading a tiny button that's black with writing in a 2 point font in black. Not only can't I read it my kids can't read it. If it's better for me, it'll be better for everyone." He continued discussing Alexa developers conferences and declared, "We're years away from perfection. But we can see the future."
Alexa was omnipresent at CES 2017. Last year, devices became "Alexa enabled." That is, they could be controlled by Alexa. Dish is taking advantage of Alexa's advanced abilities, announcing that within the next year, Alexa commands will make its remote control obsolete. This year, Alexa is built into devices and can be used to control your home, answer questions, make shopping lists and more. Everything from an LG refrigerator and iHome alarm clock will have Alexa included.