Yes: Close to the Edge in 5.1 Surround
Close to the Edge
. (Said intro is keenly accented by Rick Wakeman's understated organ fills that lightly season the rear channels.) And I hate to sound like a broken, er, record, but the one true king of transformative surround sound mixing (Porcupine Tree, King Crimson, Jethro Tull, XTC) has raised the all-channel bar yet again, for Wilson's transcendent 192/24 5.1
CTTE
mix is as pure and true as you'll ever hear it on Panegyric's Definitive Edition Blu-ray/CD combo package. His wholly immersive, ear-boggling 5.1 mix achieves total mass attainment, highlighted by Wakeman's uplifting, fully enveloping church organ sequence on the title track and Jon Anderson's echo-laden vocal call-and-response word-association invocation in the rears during the back half of "Siberian Khatru." Wilson also presided over a score of extras, including a U.K. vinyl transfer (a.k.a., a "needle drop") and both the original 1972 and updated 2013 stereo mixes in 96/24. Here, we get up and we get down about taking such classic material to the absolute
Edge
.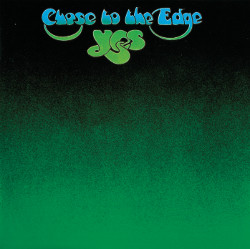 MM: So how does one go about making an admittedly "beautifully recorded and beautifully mixed" progressive masterpiece sound even better?
SW: My goal is always the same: Be as faithful as you possibly can to the original mix, and don't try to modernize it or improve it in any way—but allow for the fact that you're going back to an earlier generation of tape. Remember that every kind of mix, every vinyl master, and every copy master is a further reduction in sound quality. But by using the original tape, I inherently knew I was going to get more tone out of the music and more out of the recording itself than anyone had been able to before.
MM: Producer Eddie Offord sure gave you one helluva template to work with.
SW: What I think a lot of people love about Eddie Offord's original mix is the sense of energy and thrust the music has, which is partly the musicians and the way they play. But it's also partly the fact he was mixing it to the red the whole time. He heavily saturated and compressed his mixes. He drove the tapes so hard that you get this sense of compression—not like mastering compression, but more like analog tape-mixing compression.
So my new mix has taken a new tack, a more relaxed approach to the amount of compression. I tried to preserve more of the dynamics. There's a lot more air, space, and depth that wasn't present in the original mix.
MM: Even with your extensive 5.1 mixing experience, this must have been a challenging project.
SW: It's one of the most complex mixes I've ever done, yeah. I was trying to re-create two things: First, all of the performance aspects of the mix, and second, emulating the reverbs, delays, and echo effects. On "Close to the Edge," especially in that middle section, there are sounds that are just drenched in old-fashioned plate reverb. Working in the digital domain, it's very possible now to get very close to it, because we have fantastic emulations of those old analog effects units.
MM: Do you consider this one of your best 5.1 mixes to date?
SW: There are a lot of magical moments on there, yes. At the same time, I was absolutely terrified to do this mix. It's almost like rewriting the Bible, isn't it?
Blu-ray & CD
Label: Panegyric/Atlantic
Audio Formats: DTS-HD Master Audio 5.1 192-kHz/24-bit (Blu-ray), 192-kHz/24-bit LPCM Stereo (Blu-ray), 96-kHz/24-bit LPCM Stereo (Blu-ray and CD)
Number of Tracks: 26 (Blu-ray), 5 (CD)
Length: 4:43:20 (Blu-ray), 1:06:33 (CD)
Producers: Eddie Offord (original album), Steven Wilson (2013 stereo and surround mixes)
Engineer: Eddie Offord
"On the surround mix, it sounds just like you're in the room with Steve Howe while he's playing those guitar harmonics." Steven Wilson is describing the clarity of the gorgeous acoustic intro to "And You and I," the second track on Yes' groundbreaking 1972 LP,