Step By Step: How to Install a Music Server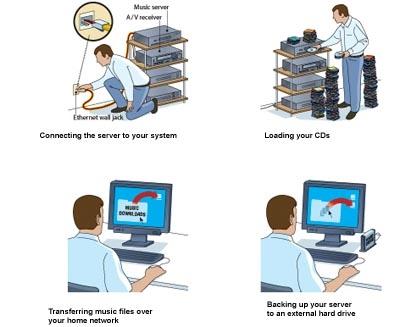 Step 1: Check file compatibility While computers can accept a variety of music file types, servers have more limited compatibility. If your server isn't "friendly" with your formats, you'll either have to re-rip, download, or buy them all over again, or convert them to a compatible format, which will cause additional compression artifacts. Save yourself the headaches by choosing a server that plays nice with your file types.
Step 2: Connect to your system Your server has both digital and analog audio outputs, and probably video connections (so you can use a monitor to select what you want to hear). If it can deliver multiple streams simultaneously, there will be a set of analog outputs for each zone. Some servers also offer analog and digital inputs for adding music from external sources.
Step 3: Connect to your Network Run a Cat-5 cable to your network router to hook up the server to your high-speed Internet connection. If DHCP (Dynamic Host Configuration Protocol) is enabled on your network, the server should automatically obtain an IP address. If not, set up the address and network gateway information. You can also go wireless - even if your server isn't wireless-enabled. A wireless Ethernet adapter (under $100) receives your wireless signal and turns it into a wired connection any server can accept.
Step 4: Set Preferences Servers offer options to make them more user-friendly. When you pop in a CD, should the server rip it to its hard drive or just play it? What bit rate should it use? Should it burn CDs as data (MP3 or WMA) discs, or convert songs to WAV files any CD player can read?
Step 5: Load Music Loading CDs into the front-panel drive takes about five minutes per disc, but servers usually have no problem going online and grabbing album info with this method. Most servers also let you import music over your network, which is faster than loading CDs, but some info (like album art) might not transfer correctly. If you've got more money than time, send your server and CDs to a service such as Riptopia and RipDigital, which will load the hard drive for you. If your server has analog or digital inputs, you can use them to add music from sources such as turntables or radio tuners. (This is done in real time and won't include any album info.)
Step 6: Enter the Info The online databases that servers use to identify your music can ID most discs. But if you have a lot of classical or foreign titles, or want to load home-burned mix discs, you'll need to enter the information yourself. While you can use the remote to do this, you'd be better off trying to tunnel to China with a spoon. Most servers let you connect a USB keyboard or log on to the server over the network to update album info.
Step 7: Back up the Data Big collections can take days to reload if the hard-drive fails - if you still have the original files around - so check with the server manufacturer about ways to back up your data. This can be as simple as connecting an external hard drive to a PC on the network. If calamity strikes, you can restore your collection at the push of a button.