SSE Bows Neo Transparent Screen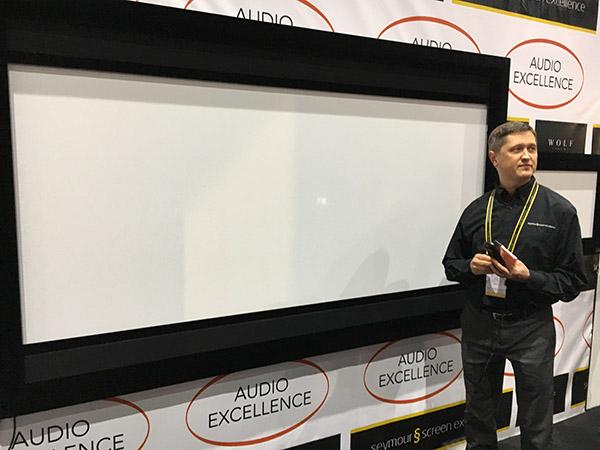 Seymour Screen Excellence, already known for its high-quality acoustically transparent screens, used CEDIA to show off its newest generation Neo screen material.
With its exceptionally fine but breathable weave, the Neo is said to allow placement of speakers directly behind the screen with no audible masking affect and no requirement for equalization. It is said to pass soundwaves with less than 1.5 db attenuation out to 20,000 hertz.
In what amounted to one of the best home theater demos of the show (featuring Wolf Cinema's 2nd generation, laser-driven 4K D-ILA projector), the new screen exhibited no detectable artifacts, even from close up.
The company's Chris Seymour, said a 120-inch fixed frame version of the Neo should retail for about $3,000. Shown here with his new screen, he also announced a clever new motorized masking system called the Trim, which uses sliding panels to shift from 16:9 to 2.35:1 widescreen formats. Prices start around $5,000.
WHERE TECHNOLOGY BECOMES ENTERTAINMENT