Seymour Makes Switching Aspect Ratios Simple
Al Griffin
|
Sep 15, 2016
|
First Published: Sep 16, 2016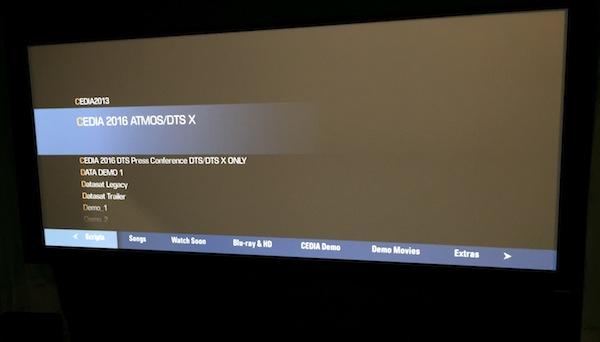 Yes, that image above is of a projection screen in dark room—a common sight here at CEDIA. What you're actually looking at is a Kaleidescape server menu displayed on the TAM-1T, a new variable aspect ratio projection screen from Seymour-Screen Excellence.
Unlike other projection screens that use complicated dual motor systems to mask the screen area for multiple aspect ratios, The TAM-1T uses a single-motor solution to modify screen height while maintaining constant image width. The main benefit here is reduced cost—at $8,200, the TAM-1T represents a 30% price reduction over the company's TAM-2TB dual-masking system model.
The TAM-1T uses S-SE's Enlightor 4K screen fabric, a fine-weave, ISF-certified material that the company says is acoustically transparent, provides perfect color reproduction, and supports greater than 4K image resolution. According to S-SE, the screen's masking material, too, is acoustically transparent. Transparent sound, perfect color, reduced cost—the TAM-1T clearly has a lot going on.
WHERE TECHNOLOGY BECOMES ENTERTAINMENT