Spotify and Hulu Offer Discounted Bundle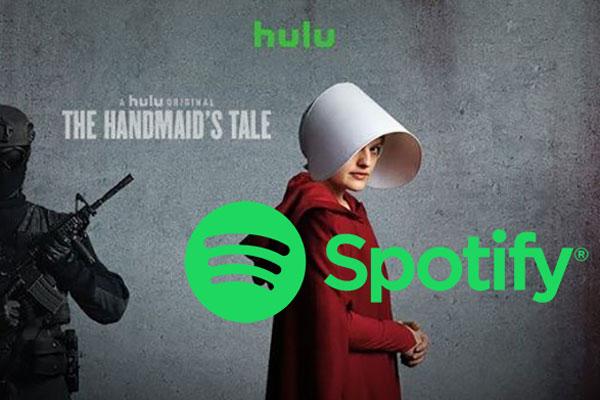 Spotify has partnered with Hulu to offer a discounted subscription bundle in an effort to attract more listeners to their paid plan.
The Spotify/Hulu bundle that was made available to college students last September for $4.99/month will now be offered to non-students for $12.99/month. The student package was well received, according to Hulu Senior VP Tim Connolly: "Hulu and Spotify are brands that are defining how fans connect with entertainment in the future, and we are excited to expand our partnership to bring this combined package to all existing and new Spotify Premium subscribers."
Spotify's free service is feature-rich on computers but has been limited on mobile apps. On computers users of the free service can listen to any song in Spotify's catalog using the players available on Chrome, Firefox, Edge, and Opera web browsers. There are ads but users can search for artists, albums, tracks, and playlists. They can also browse Featured songs, New Releases, and Genres & Moods sections as well as access and edit their music libraries, including playlists, songs, albums, and artists.
The Spotify mobile app is far more restrictive. Similar to Pandora, users who subscribe to the free service can't stream specific songs on demand, though they can specify an artist, album, or song as the basis for a playlist. Music is interrupted by advertising and users are limited to the number of times songs can be skipped.
As Spotify looks to expand its base to more than 200 million subscribers by the end of the year, it is expected to improve the mobile app experience for free subscribers by providing more control over what songs listeners hear on the top playlists and making it easier to find songs and access playlists. Still, the premium service continues to add exclusive features.
Record labels and musicians have been putting pressure on Spotify to limit the content available on the free service. The company has responded by allowing premium subscribers to access many new releases two weeks before they become available on the free service. Other premium benefits include no ads, unlimited skips, downloading music for listening offline, playing any track, and FLAC uncompressed audio streaming.
The Spotify/Hulu subscription bundle is Spotify's biggest push to attract more paying subscribers. Without the bundle, the basic Hulu subscription is $7.99 a month and it includes commercials during TV shows and movies. Spotify's premium subscription is $9.99 per month.
Spotify is offering introductory pricing for the bundle. The first month will be $10.99 (a dollar more than Spotify Premium alone). The second and third month will be $9.99 for both Spotify and Hulu. After the third month, pricing goes up to $12.99 — $5 a month less than the full price of both services. Bundle subscriptions will be paid to Spotify and an existing Hulu account can be merged into the Spotify/Hulu bundle.
The Spotify/Hulu bundle is available now to existing Spotify Premium subscribers and expected to roll out to the general public this summer. If you are a Spotify Premium member you can get the Hulu/Spotify deal here.