Speaking in Surround Page 2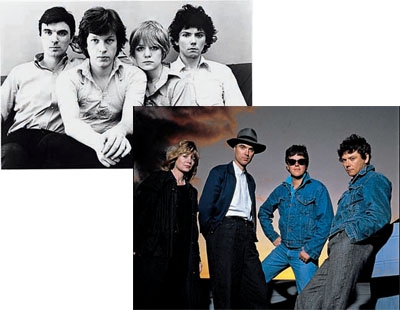 Excited? Jerry certainly is. Rhino's publicist had cautioned me not to interrupt Jerry while he was actually working in Sterling's Studio M1 with Ted and E.T. - but when Jerry sees me waiting in the kitchen, he immediately ushers me into the studio. And when I sit on the back couch to stay out of the way, Jerry motions me forward: "You gotta get closer to the middle!" So here we are: Ted sitting at the board, Jerry and E.T. standing just behind him, and me right behind them, all bopping to the irresistible beat and the all-encompassing sound of the track they're working on, "Crosseyed and Painless" from Remain in Light. And our "quick interview" becomes a 2.5-hour surroundfest.

Muses Jerry later: "With our records and other classic records, like Pink Floyd's The Dark Side of the Moon, I have a tendency to tell people [gets up and grabs my arm], 'Come on, sit here, it sounds better - don't stand over there.' It's a visceral thing. That's how it was when you bought a record. Now­adays, with the iPod, people just say, 'Let me copy this song and go away and listen to it on my headphones.' It has turned music into a commodity."
"I'D LIKE TO DO THIS" Working with E.T. - the original engineer/mixer of Little Creatures and True Stories - Jerry has turned the catalog into a work of surround art. And he asked for the job.
"When the band was preparing The Best of Talking Heads for Rhino, I said, 'We should do some surround mixes. We should start with Remain in Light and Speaking in Tongues.' And then I said, 'I'd like to do this' " - which he did with E.T. over the course of a year at Jerry's home studio in Sausalito.
As expected, the results are heard most vividly on Light and Tongues. "That was the band's experimental stage," E.T. notes, "when they were really going for it. So we felt that, in the surround mix, it would be a shame if we were conservative." At last, Light's "Once in a Lifetime" is completely immersive. And when we cue up "The Great Curve," Jerry points out how guest guitarist Adrian Belew's solo dives into the subwoofer - and how, toward the end, "It's great to have all those overlapping vocals spread out like a choir all around you. It's our Pink Floyd."
Yet the earlier, simpler recordings - such as "Psycho Killer" and the rest of Talking Heads: 77 - are also impressive in surround. Jerry suggests we listen to Track 1, "Uh-Oh, Love Comes to Town," which sounds especially full when the choruses are supported by keyboards in the rear. "The band is still playing upfront," he says, "but I tried to find some balance with the rear so that people feel they're getting their money's worth."
Yet when bassist Tina Weymouth and drummer Chris Frantz first checked all the mixes, "they had some real problems," Jerry reveals. "Not with Light and Tongues. They thought the earlier albums had too much going on in the rear. So we adjusted those mixes - though sometimes we didn't pull back things as much as they wanted." And what did frontman David Byrne think? "David loved everything. We had to do only one fix for him. In 'Electric Guitar' on Fear of Music, he thought one of my keyboard lines was a little loud. And he was right."
It's near the end of our surround­fest - and at the end of the day, does Jerry have any fears that multichannel music is on a road to nowhere? "The record companies should say, 'If you buy ten DualDiscs, we'll give you a DVD-Audio player.' And they should say to car makers, 'If you put DVD-A into your models, we'll give you ten DualDiscs to give away with each car." Hmmmm. On this road, the future may be uncertain. But ideas like Jerry Harrison's could give us time to work it out.
LATEST VIDEO