Soundcast Outcast all-weather wireless speaker system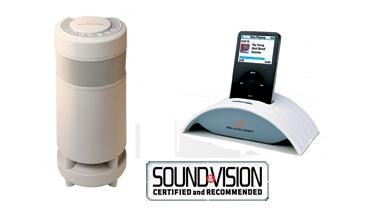 The Short Form
$699 / SOUNDCASTSYSTEMS.COM / 800-722-1293
Snapshot
The OutCast system totally delivers on its promise of plug-and-play wireless music, making it a great solution for adding tunes to remote listening areas
Plus
• Incredibly simple setup • Great wireless range • Mega-long-lasting battery life
Minus
• None
Key Features
• Weather-resistant speaker runs many hours on a single charge • Speaker features four 3-inch mid/high- frequency drivers and an 8-inch woofer powered by a 100-watt digital amplifier • iCast wirelessly transmits audio from an iPod or other source; also works with the iTouch and iPhone • OutCast speaker: 11 x 26 x 11 in, 27 lb; iCast transmitter: 6 x 2 x 3 1?2, 3?4 lb
Besides writing for Sound & Vision, I also work at a "regular" day job as a custom installer. And after speaking to potential clients every day for the past 10 years, I can say that one thing they want is wireless audio. Whether it's because they don't want to pay for retrofitting wire into an existing home, or simply because they just want instantaneous results, "What do you have in wireless?" is an incredibly popular request.
While this might seem like a worthwhile path to go down, I usually try to steer my clients away from it because of all the inherent problems and limitations of wireless audio systems. Most deliver performance akin to what you get with a cordless speakerphone, with signal transmission that's prone to interference and dropouts. And these systems aren't truly wireless because they still require electricity to drive the speaker's amplifier. But one potential solution first caught my eye at the 2007 Consumer Electronics Show: the Soundcast OutCast system, a setup that promised to address my wireless concerns and integrate with my iPod to boot. The system consists of the OutCast all-weather speaker and the iCast transmitter/iPod dock. The speaker features four 3-inch mid/high-frequency drivers arrayed around its surface to provide 360° of sound dispersion, with a single 8-inch, downward-firing woofer handling the low-end chores. A 100-watt digital amplifier powers the five drivers. While I'm generally not a big fan of digital amps for distributed audio systems, this coupling works well because the highly energy-efficient digital amp extends battery life. The iCast transmitter is simplicity in itself, having literally no buttons or controls at all. The big news is the iPod port that sits atop its curved, white shell, a dock that works with iTouch and iPhone models as well.
SETUP
Soundcast claims that its systems are "easy to set up, and they work," so I expected nothing too complex. What I didn't expect was just how simple the installation would be. The hardest thing about the entire process was unpacking the components. Without exaggeration, that took more time than setting up the system and getting music to play. For the record, setup requires connecting the iCast transmitter/dock to an electrical outlet and inserting the 24-volt nickel-metal hydride battery into the weather-sealed compartment on the bottom of the OutCast speaker. You then power on the speaker, dock your iPod, and press Play. That's it. You've just installed the whole Soundcast system and are now listening to music. Now that's what I call "plug and play"! While the system was definitely designed with iPod owners in mind, other types of audio sources can be hooked up to it as well. The back of the iCast features a 3.5-mm minijack connector that serves double duty. When an iPod is connected, it acts as an output for either driving a pair of headphones or sending your tunes to another audio system; when no 'Pod is connected, it becomes an input, letting you connect and broadcast any source, such as a cable box, a CD player, or a non-iPod MP3 player. Awesome! The system comes with the mini-to-RCA cable needed for this connection, as well as a mini-to-mini cable. The OutCast speaker also features a minijack input for plugging a source directly into it.
At some point, a flashing red light on top of the speaker will indicate that it's time to recharge the battery. A completely discharged battery takes about 3 hours to return to full power. Fortunately, the system is fully functional while charging, so a depleted battery doesn't have to bring the party to a crashing halt.
The iCast can broadcast on one of three channels, and both units have switches for selecting between Channels 1, 2, and 3. Beyond just avoiding broadcast interference, the real benefit here is that three separate Soundcast systems can operate within close proximity to each other.