Sony's Flat Screen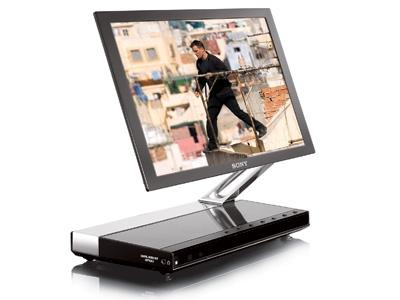 The catch phrase "flat TV" has been circulating for years, mainly to describe the many flat-panel plasma and LCD sets that have swamped the market. But with an average cabinet depth of 3 to 5 inches, can those TVs really be called flat? To find a truly flat display, you need to check out OLED (Organic Light-Emitting Diode).
Displays based on OLED technology have been a familiar sight at electronics trade shows for a few years now, and small-scale versions have found their way into a number of digital cameras, camcorders, car stereos, and portable media players. But it wasn't until Sony announced at this year's Consumer Electronics Show that its XEL-1 had arrived at Sony Style retail stores that an actual OLED TV set was made available to the public.
The Short Form
Price $2,500 / sonystyle.com / 877-865-7669
Snapshot
Although the first OLED TV to hit the market is pricey, the future sure is looking good. Pretty, pretty good.
Plus
•Crisp picture with effective noise reduction •Strong contrast and shadow detail •Rich, natural-looking color
Minus
•Expensive for an 11-inch TV •Limited video-input options
Key Features
•11-inch widescreen OLED display •960 x 540-pixel resolution •Built-in digital TV tuner •Built-in speakers •Headphone/digital-audio output •Table stand •Inputs: 2 HDMI, RF antenna/cable, Memory Stick slot, USB (for external Sony DMex modules) •11.4 x 10 x 5.6 in; 4.25 lb
The $2,500 XEL-1 is a desktop TV with an 11-inch-wide, 16:9 screen. That's right - 11 inches. That comes out to $227 per inch, an exorbitant sum when you consider that the same $2,500 can buy you a 1080p-rez HDTV with a 52-inch screen (a mere $48 per inch).
And Sony's OLED isn't even a true HDTV: Its 960 x 540-pixel display lacks sufficient resolution to properly carry the HD label. Even so, the XEL-1 can accept HDTV sources at incoming resolution levels up to 1080p, scaling them down to fit the native pixel array of its screen. Along with displaying high-def programs, the tuner built into the TV's desktop base can handle off-air digital broadcasts pulled in by antenna, as well as any unscrambled channels coming over your digital cable line.
Of course, we're talking about some brand-spanking-new technology here - and beyond the XEL-1's screen size and resolution, you'll discover its most significant specification. That would be its amazing "cabinet" depth: a mere 3 millimeters, or about the same thickness as three credit cards. It is this thinness, along with its picture quality, that makes the XEL-1 very special indeed.
The XEL-1's screen is surrounded by a thin gloss-black frame and attaches to the set's desktop base by means of a pivoting arm. Speakers are embedded in the base, firing sound up through a mesh-aluminum sheet. Controls line the base's top in front, including buttons to navigate menus, switch channels, and adjust volume.
On the base's back panel, you'll find two HDMI inputs, an RF jack for plugging in an antenna or a cable line, and a Memory Stick media-card input. There's also a USB jack designated for hooking up Sony's optional DMex (Digital Media Extender) modules. At the moment, the company's DMex selection is limited to just an Internet Video Link box that's designed to stream Web video content over a broadband connection, but Sony has additional ones in the works, including wireless HDMI and DVD player modules.
The ultra-slim remote control is a good match for the XEL-1. Its keypad layout is clean and well organized, and there are buttons to jump directly to picture and sound presets as well as to navigate Sony's cool XrossMediaBar onscreen menus. You switch TV sources by pressing the Input button and scrolling through an onscreen list of selections. To change display modes, you hit the Wide button and step through the settings: Normal (4:3), Full (16:9), Zoom, and Wide Zoom for standard-def programs, and Full, Zoom, and Wide Zoom for high-def ones.