Sony's Aspirational Audio Player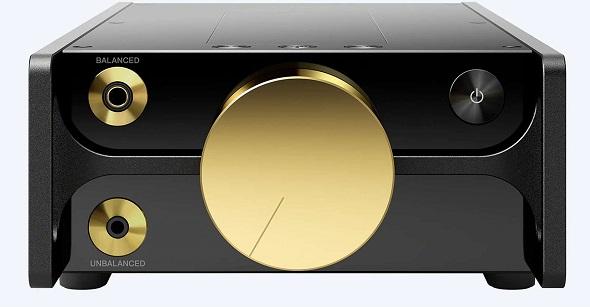 In today's hyper-politicized environment, where everything, and I mean
everything
, is controversial, companies must tread a fine line between enticing, or alienating, their customers. Depending on your point of view, the same product might inspire words such as: Opulence, extravagance, prestige. Or, you might revoltingly respond with: Wretched excess, conspicuous consumption, 1%.
In any case, Sony has weighed in with a clearly aspirational product, that is, one that many people will want, but few can afford. In particular, I present to you the DMP-Z1 Music Player. Before I inform you of the price tag, let's consider some of its features.
The DMP-Z1, part of Sony's Signature Series, is a digital music player. As you would expect, it will play Hi-Res Audio music file formats including PCM to 384 kHz/32-bit, and DSD native to 11.2 MHz, as well as MQA and FLAC, among others. A Vinyl Processor algorithm delivers an "authentic listening experience" with "low-frequency resonance, tone-arm resistance, and surface noise," and another algorithm is said to restore audio quality to compressed files. There is also a 10-band equalizer, and tone controls. The player has 256 GB of internal storage, and two microSD slots let you add to that capacity.
Output is via a mini-jack, or a balanced standard jack. Bluetooth is also on board, but that seems to defeat the purpose of an audiophile player such as this. The player can be powered via AC, but for the purist power, it can be juiced with internal lithium-ion batteries; they allow 10 hours of low-res playback, or 9 hours of hi-res playback. The player uses dual Asahi Kasei AK4497EQ D/A converters, and a Texas Instruments TPA6120 analog amplifier chip. The balanced output delivers 1,500 mW output into 16 ohms and the unbalanced output provides 570 mW into 16 ohms. Connection to your PC is via USB-C. The player is more transportable rather than portable, measuring about 5.5 inches across, 2.7 inches high, and 11 inches deep.
As with any aspirational product, there is a degree of excess, particularly in its ad copy. For example, the volume control knob is gold plated. I have no problem with that, but my eyebrows dance a little when, in reference to said gold-plated volume control, Sony states that "copper and gold-plated brass ensures absolute sonic purity across all dynamic levels." Along the same lines, there is some gold contained in the circuit board's solder and Sony claims that it will "enhance the signal flow." Also, capacitors are selected to give "clear, transparent melodic lines." That's laying it on a little thick, I think.
And the price? Well, the DMP-Z1 is a bargain at only $8,000. Padded carrying case included.
Like I said, Rolex, Tiffany, Ferrari. And now, Sony.
Perhaps Sony has realized that the manufacture of low-cost, commodity audio products is a game they don't want to play. And Sony was always known for delivering products that were often a cut above everyone else's. Now, with products like the DMP-Z1, Sony seems to be testing the waters of very high-end audio. A small market, perhaps, but a profitable one. I wish them well. If you want more info on the DMP-Z1, check out Sony's web page.
And does a $8,000 music player incite rage in you, or does it inspire appreciation? Sony would love to find out, especially if your opinion is positive, and it goes viral.