Sony Stages Stunning Demos of its 2019 TV Lineup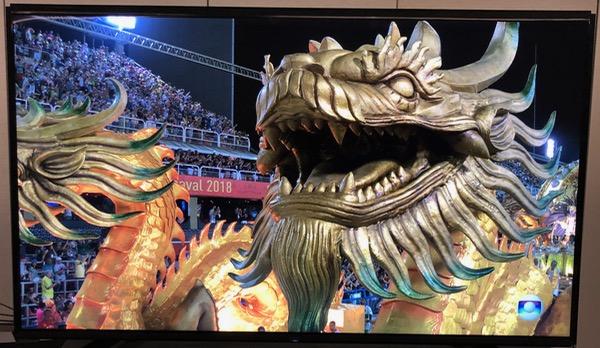 Sony recently invited journalists to its New York City facilities to brief us on the company's 2019 TV product strategy, along with comparative demonstrations against the best offerings of its key competitors.
As we've also heard from other TV makers, once you pass the $1,000 price point today's TV sales trend toward screen sizes of 70 inches or larger. Consumers want BIG sets; that's the one picture characteristic everyone can grasp immediately. Sony expects that before the year is over, 40% of TVs that sold for $1,000 or more will be 70 inches or larger. This compares with roughly 22% in 2017. The reason for this trend, of course, is price, and prices for bigger screens have been dropping dramatically in recent years. So it's no surprise that Sony's sales strategy for 2019 is "Go Big, Go Premium."
Every TV maker talks about reproducing the creator's intent. But Sony, with its heavy footprint not only in consumer televisions but also in content creation on both the creative and technical sides, can speak with some authority on that point. Its digital cameras are widely used in movie production, and Sony's reference monitors populate many a mastering suite.
On the consumer side, Sony's top-of-the-line sets — the new X950Gs, A9Gs, and Z9Gs — now employ the company's best video processor, the X1 Ultimate, first introduced in 2018. All are compatible with the most common forms of high dynamic range. These include HDR10, Dolby Vision, and HLG (Hybrid Log Gamma), but not HDR10+. Sony's OLED TVs also continue to employ Acoustic Surface technology, in which transducers behind the screen vibrate the screen itself to place sound at the center of the screen. For 2019 a similar concept has been incorporated in the new Z9G LCD sets. While it isn't possible to use the thicker, heavy screen in an LCD design to produce the source audio, the speakers in the Z9G radiate near the four corners of the screen, which is said to produce a similar effect.
The top Sony sets also support IMAX Enhanced. I remain skeptical that this new feature will do much more than provide warm fuzzies to buyers that they're getting a set adhering to premium standards (much like THX). But I'll reserve judgment until I get a closer look at the sets, along with a look at the (currently limited) program material that's expected to show IMAX Enhanced at its best. There's also a Netflix calibrated picture mode, usable on Netflix streamed via the Netflix App in the TV (but not from any external device such as an Apple TV).
Sony Faces Off Against Competitors
There's a lot more to be said about the 2019 Sony TVs, and we'll certainly say it when we review the company's latest sets. But while none of the above is meant to suggest that any one set maker, including Sony, clearly makes the best TVs on the market in all respects (though they'll all insist that they do!), the Sony demos that followed the briefing were certainly stunning. Sony faced off its sets against similarly sized 4K 2019 models from Samsung (the 75-inch Q80 LCD vs. Sony's 75-inch X950G LCD) and LG (the 65-inch E9 OLED vs. Sony's 65-inch A9G OLED). A third demo was a face-off of 8K sets — Sony's 85-inch Z9G ($13,000) vs. Samsung's 85-inch Q900 ($15,000). (Sony's 98-inch 8K Z9G can be yours for a cool $70,000 — that last foot is a budget killer!)
The results in each case were eye-opening, with every Sony batting 1,000. But such demos are never entirely fair nor fully convincing, and should be viewed as a taste rather than a complete meal.
In each demo both sets were set to their theoretically optimum picture modes (Cinema or Custom), with no claim of any further calibration having been performed. While this might appear appropriate, the results simply demonstrate both makers ideas of an optimum picture, which are rarely identical. What we want in an A/B is the most accurate picture from each entry, regardless of how each manufacturer intends their set to look. This means that each set needs to be tightly calibrated by the user end. But any tweaking of a competitor's set in a face-off, no matter how well intentioned, would leave the tweaker open to arguments that the settings were skewed to make the competition look inferior — even if they weren't. The only remaining option is to use each set's best out-of-the-box preset picture mode, which was what, to our knowledge, was done here.
That said, however, all of Sony's TVs looked exceptional, particularly when displaying scenes from last year's Carnivale (Mardi Gras) in Brazil. As shown on the 8K sets, the images made a convincing case for 8K's 33 million pixels, at least on a super-sized screen. The opening photo shows those 8K images on the Sony Z9G, as captured on an iPhone and displayed on your phone or computer screen — which doesn't come close to the clarity, depth, dynamic range, and color I saw in person.