Sony Goes Deep
Last week, Sony invited hundreds of journalists to soundstages on the Sony Pictures lot in Culver City California. The event: a kickoff of its new 3D component lineup, plus announcements of upcoming 3D software.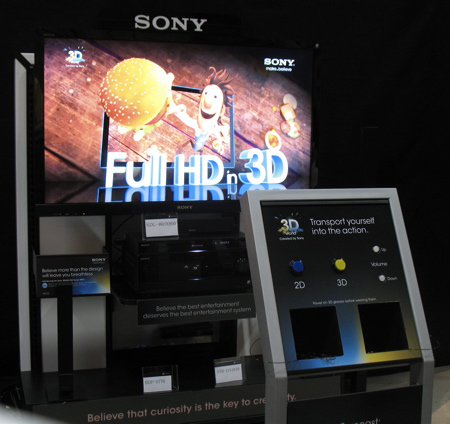 Sony is launching nineteen 3D-capable products, including HDTVs, Blu-ray players and home-theater systems, and HDMI 1.4 A/V receivers with 3D pass-through.
There are three lines of new 3D HDTVs. The sets will be available in 40-, 46-, 52-, 55-, and 60-inch sizes (depending on the line), at prices from about $2200 (40-inch KDL-40HX800) to $5000 for the 60-inch XBR-60LX900).
While the XBR-LX900 models will include a built-in IR sync transmitter plus two pairs of Sony 3D glasses (extra glasses will be available at $150 per pair), other 3D Sony sets in the XBR-HX909 and KDL-HX800 lines will be "3D-ready." That is, they cannot display 3D now, but they can be upgraded to full 3D capability with the addition of a transmitter (about $50) and 3D glasses. To our knowledge, Sony is the only company that offers sets with this sort of upgradeability for those who prefer to wait until there is a broader selection of true 3D programming.
All three lines of Sony 3D sets will have a feature that simulates 3D from 2D source material. Our limited experience of this sort of processing so far (we have not yet seen Sony's) suggests that it can be moderately effective, but not as effective as a true 3D source.
Interestingly, the "3D-ready" XBR-HX909 line is the only one that offers Sony's Intelligent Dynamic LED backlighting (local dimming). The out-of-the-box 3D XBR-LX900 sets are edge-lit, and the "3D- ready" KDL-HX800 sets offer Dynamic Edge LED backlighting.
On the software front, the 3D animated feature Cloudy With a Chance of Meatballs streets on June 22 from Sony Pictures. Purchasers of one of the new Sony 3D sets will receive a copy of this release, together another new 3D title, Deep Sea.
Updates for the PlayStation 3 game/movie player will enable it to not only play 3D Blu-ray movies but also play 3D games as well. Up to twenty downloadable 3D games are in the release pipeline. Buyers of Sony 3D sets will also receive a voucher to download three of these titles for their PS3s.
Sony also announced 3D upgrades for its BDP-S470 and BDP-S570 Blu-ray disc players, plus its BDV-E570 and BDV-E770W home-theater systems.
With 23,000 theaters expected to be equipped for 3D by 2012, Sony announced that its 2012 slate of theatrical films will include the next installments of its Spider-Man and Men in Black franchises. Those titles will almost certainly make their way onto 3D Blu-ray following their theatrical runs.