Sony Demos Startling "Backlight Master Drive"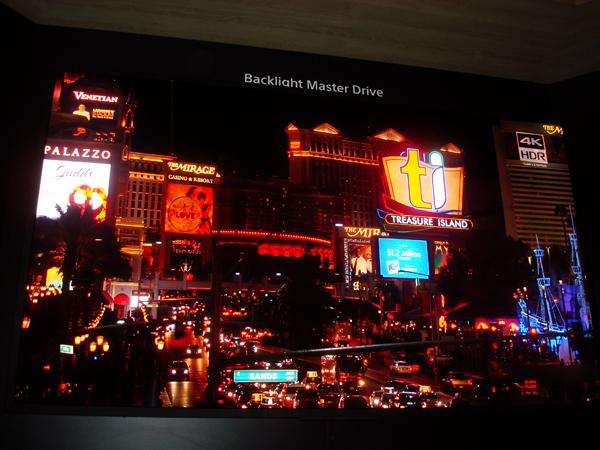 The introduction of a flagship Ultra HDTV and a smattering of lifestyle products were among the key video and audio announcements at Sony's pre-show CES press conference, but the booth demonstration of a remarkable prototype backlight technology may prove to the be most significant news for
Sound & Vision
readers.
As if to say, "Take that, OLED," Sony's Backlight Master Drive is said to deliver noticeably deep blacks and peak white highlights of up to 4,000 nits, about 10 times the capability of the typical non-HDR LCD television and something close to that for an HDR-capable OLED. The technology starts with a high-density local dimming LED backlight and uses some "precision backlight boosting technology" combined with Sony's pre-existing X-tended Dynamic Range PRO.
The on-site demo, using an HDR-mastered 4K clip from the recent Annie reboot and some 4K scenes shot on the Vegas strip, was nothing less than startling to experienced viewers like myself, not to mention more casual observers. Played alongside a standard non-HDR monitor showing the same material, the Master Drive-driven scenes triggered a visceral reaction every time a sudden sun-flash or bright neon highlight hit the screen. Blacks were satisfyingly inky, and, notably, shadow detail and fine gradations in the near-black were well preserved. Clearly, LCD technology has a few tricks left in its tank.
What's unclear, of course, is whether this prototype is just pie-in-the-sky or something that could be commercialized at reasonable cost. Sound & Vision staffers have a private briefing with the Sony video team today where we hope to learn more.
Meanwhile, the new 55- and 65-inch XBR-X930D, and 75-inch XBR-X940D flagship UHDTVs feature Sony's best existing HDR and wide color gamut tech, both the aforementioned X-tended Dynamic Range PRO and the company's Triluminous backlight technology. Both feature an even slimmer design from earlier models. Availability is scheduled for early 2016; no pricing was announced.
Starting in 2016, these and all Sony's HDR sets will show off a new logo designating them as such. Models with the logo meet the CTA (HDR10) HDR standard, but no mention was made of how they'd fare with meeting the just announced UHD Alliance standard for Premium HDR.
In a related announcement, Sony says it will launch a new 4K streaming movie service this year called Ultra that will draw upon the Sony movie studio's wealth of 4K content. Optimized for Sony Bravia Ultra HDTVs, the service will eliminate the need for the purchase of Sony's current 4K media server for the downloading and viewing of 4K movies.