Sony BDP-CX7000ES Blu-ray Disc Changer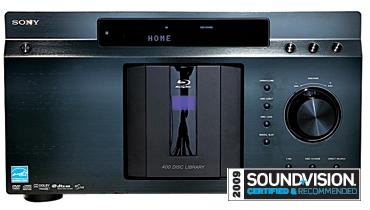 Key Features
$1,899 sony.com
• Holds up to 400 DVDs, CDs, or Blu-ray Discs in any combination • Accesses Gracenote database for disc metadata lookup • Onscreen GUI includes cover art and other metadata for automatic collection sorting • Decodes Dolby TrueHD and DTS-HD MA soundtracks (but no PCM output of DTS-HD over HDMI) • Exceptional 5-year warranty • Connections: HDMI, component-, composite-, and S-video; coaxial and optical digital audio; analog 7.1-channel and stereo; LAN, USB, and RS-232 serial; IR input • Dimensions + Weight 17 x 91?2 x 22 in; 311?4 lb
The desire to collect 5-inch discs must be hardwired into our DNA. First it was CDs, then DVDs, and now Blu-ray Discs. While A/V server systems have arrived on the scene to gobble up most music and some DVD collections, Blu-ray Discs have proved problematic. A few companies recently started offering harddisk- based Blu-ray management solutions, but the format's capacity - upward of 50 gigabytes per disc - makes the storage required for even a medium-size collection daunting.
A Blu-ray Disc changer is what's been needed to store growing collections, and Sony has finally stepped up to the plate, offering not one but two 400-disc-capable models. But beyond creating a giant disc repository, Sony added in smarts to help manage collections. Thus, with an armful of Blu-rays, DVDs, and CDs, I took a look at Sony's flagship BDP-7000ES. Could this finally be the answer to my growing pile of blue jewel cases?
SETUP
My first thought on unboxing this player was how huge it was. I believe my exact quote was, "Damn! This thing's huge." At 9½ inches high by 22 inches deep, it will likely be the largest component in your system, and possibly pose problems for your cabinetry. As part of Sony's Elevated Standard (ES) lineup, the 7000ES features substantial build quality and a terrific 5-year warranty.
I have Sony's previous version of this changer, the DVP-CX777ES, so I'm familiar with its operation. The obvious differences are the 7000ES's ability to play Blu-ray Discs and upscale DVDs to 1080p resolution. Unlike the 777ES, however, this bad boy won't handle SACDs, which will undoubtedly be a disappointment to some.
When it comes to pack-ins, this player is a real Scrooge. First, there's no memory card for BDLive functionality. Since memory cards start under $10, not including one with a $1,900 player is lame. And how about a free HDMI cable, Sony?
The 7000ES's connections allow for a wide range of setup options. I took the simplest route of running a single HDMI cable to my processor, letting it handle both digital audio and video. The player does provide a set of 7.1-channel analog audio outputs to pass on next-gen Dolby TrueHD and DTS-HD Master Audio soundtracks to nonHDMI receivers. Equally important, the 7.1-channel analog audio connection provides delay, crossover, and level adjustments for each channel. What it doesn't provide is built-in Wi-Fi - you need to connect your router to the Ethernet connection for metadata lookup, BD-Live access, and firmware updates.
Once connections are made, setup is like any other Blu-ray player, with a few exceptions. The 7000ES has Sony's Xross Media Bar interface, which I find really intuitive for menu navigation. Two setup features are worth mentioning here. The first is Gracenote lookup, a feature that really catapults this machine from a huge discstorage device into a sophisticated media manager. Second is a "Child Lock" that allows you to lock down the front panel, a perfect deterrent for curious kid fingers.
The next part of setup was disc loading. I wanted to give the lookup process a challenge, so I just piled discs in randomly, with no regard to format or sorting. Since the 7000ES holds 400 discs, carousel spacing is extremely tight - like, get-out-your tweezers tight. Sony thoughtfully included a button labeled "Rental Slot" that automatically spins the carousel to Slot 1. This came in very handy for cycling Netflix titles in and out. However, a little extra spacing around this slot would've been nice for easy loading and retrieval, even if that meant reducing maximum capacity to, say, 390 discs. It's also nice to know that if you have a truly sick disc collection, the Sony's three separate IR code sets allow you to independently control up to two additional changers.