Sony 3D Launch
All photos by Scott Wilkinson
Traffic on the San Diego Freeway and surrounding surface streets was among the worst I've seen in many years as Tom Norton and I slowly made our way to Sony's big 3D launch event yesterday at Sony Pictures Studios in Culver City, California. We finally got past the accident—after a medevac helicopter landed right next to us on the freeway—and arrived shortly before Sony CEO Sir Howard Stringer said, "Thanks for coming!"
We did hear a few tidbits before the end. For example, on June 22, Sony Pictures Home Entertainment will release Cloudy With a Chance of Meatballs on Blu-ray 3D, and it will be available at retail outlets as well as being bundled with some Sony 3D TVs. (Hallelujah! It could well be the first Blu-ray 3D title not limited to TV or player bundles.) The studio is also planning to release Monster House and Open Season on Blu-ray 3D in the near future.
Upcoming 3D theatrical titles from Sony Pictures include new installments in the Spider-Man, Men in Black, and Resident Evil franchises as well as The Green Hornet, Smurfs, and Hotel Transylvania. And of course, Sony is big on 3D TV programming, including the upcoming collaboration with Imax and Discovery to create a 24/7 3D channel, not to mention—believe it or not—Wheel of Fortune!
Fortunately, the product info presented during the press conference was available afterward. As first introduced at CES last January, Sony has seven 3D LCD TVs—the LED-edgelit HX800 series (40-inch, $2100; 46-inch, $2700; 55-inch, $3400), LED-backlit HX909 series (46-inch, $3500; 52-inch, $4000), and LED-edgelit LX900 series (52-inch, $4000; 60-inch, $5000)—all of which are now available for "pre-sale" and should be shipping in the next few weeks. The LX900 sets include a glasses-sync IR transmitter and two pairs of active-shutter glasses, while the other models require you to buy a sync transmitter and glasses separately.
In the realm of Blu-ray players, the BDP-770 will be ready to rock in 3D when it's released in July for $300. And the firmware of two current models—the BDP-570 ($250) and BDP-470 ($200)—can be upgraded online to add 3D and DLNA (Digital Living Network Alliance) capabilities for free.
As we already know, the PS3 can be upgraded to 3D, and Sony will be exploiting this capability with lots of 3D games. Of course, the console will also be able to play Blu-ray 3D titles.
After the press conference, we were invited to the sound stage next door for some demos. First up was a side-by-side comparison of the KDL-46HX800 and Samsung UN46C7000 with particular regard to the active-shutter glasses. As expected, the glasses for one set didn't work with the other, but moving far off axis, the Samsung glasses started to behave intermittently, whereas the Sony glasses remained rock solid. We were told that Samsung uses only one IR emitter, while Sony uses 15 to encompass a wider area, allowing more people to watch at once—assuming you spring for all those glasses. Speaking of which, Sony offers two sizes for different faces, unlike other vendors.
Another demo pitted an XBR-52LX900 against an unidentified 50-inch 3D plasma (presumably a Panasonic) in a brightly lit environment, mimicking many of the rooms in which these TVs will find themselves. The Sony was slightly brighter, but not by all that much after the glasses filtered out so much light in both cases. As a side note, the power usage of both sets was being monitored, and the Sony LCD consumed about half as much as the plasma during the football game being shown on both sets.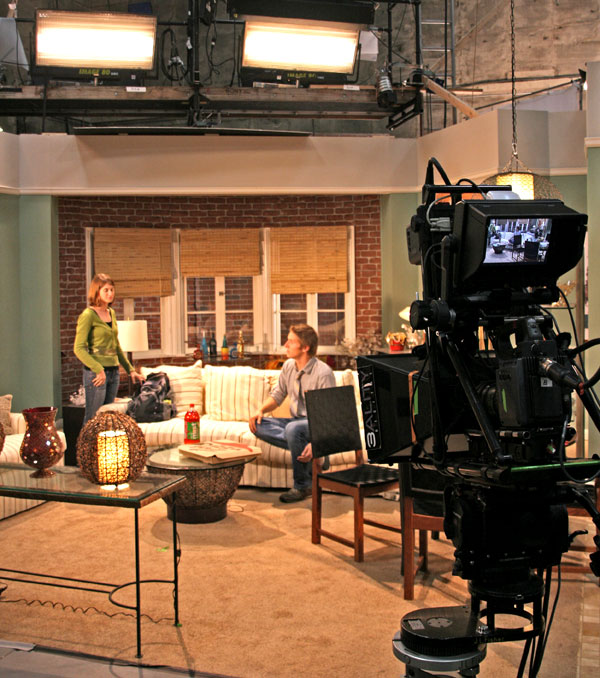 By far, the most interesting demo for me was one of the "classrooms" used by Sony's new 3D Technology Center, an educational program designed to improve the quality of 3D content by teaching directors, cinematographers, and other movie professionals how to use the technology to best effect. This area was an actual movie set with a couple of actors being shot by a beam-splitting 2-camera rig.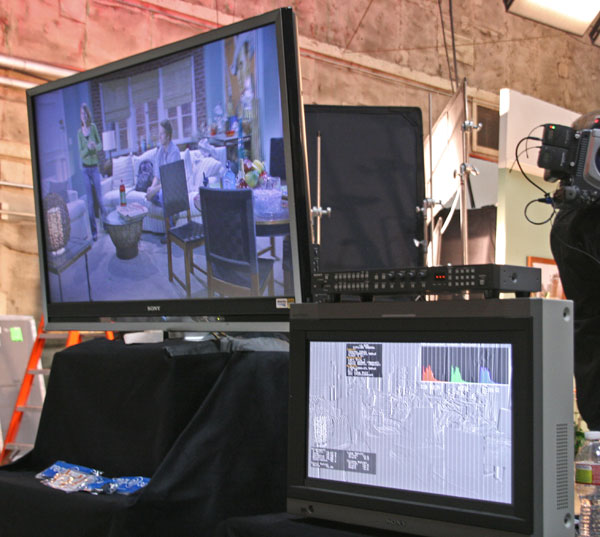 Outside the set was a prototype 3D monitor and another screen displaying various types of information from the camera rig. Interestingly, the monitor used passive glasses and a micro-polarization filter, which applies opposite polarization to alternating horizontal lines. Of course, this cuts the vertical resolution in half, but that's not a problem for quick on-set evaluations, and full-res monitors are available elsewhere in the production chain.
Because 3D is so new to most filmmakers, they often make poor decisions, leading to fewer options in the production process. Uneducated choices can also cause eye strain, which is not inherent in stereoscopic technology according to Buzz Hays, director of the program and formerly executive stereoscopic 3D producer for Sony Pictures Imageworks. If 3D is done well, he said, it can be a completely comfortable experience.
As Hays pointed out, 3D should support the storytelling, not be the story. So the 3D Technology Center is dedicated to educating as many movie pros as possible—even those who don't work for Sony—to give 3D the best possible chance of long-term success.
Now in its twelfth week, the program is a 3-day intensive—one day of lecture and two days of hands-on shooting and editing. And get this—it's offered free of charge. So far, 133 people have taken the course, and many more are scheduled throughout the year. This is a huge benefit to the entire movie industry, and I applaud Sony's effort to improve the state of the art.