Sling TV Offers Free Content on Roku Devices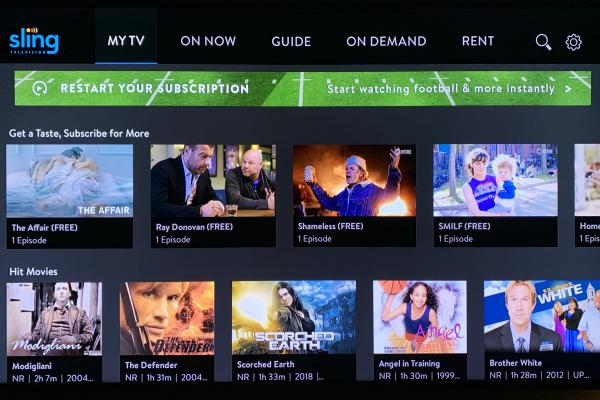 Sling TV has just released changes to its app on Roku devices, allowing users to watch free TV episodes and channels. Unlike the typical free trial setup, the content is available without requiring users to enter credit card information. First launching on Roku, the feature is expected to roll out to other streaming players and smart TVs in the near future.
Sling TV is Dish Network's streaming app that offers a subscription to basic cable channels, with add-on packages for sports, kids, lifestyle, and other special interests. STARZ, Showtime and other premium channels are also available for an added fee (HBO and Cinemax are still missing from both Dish and Sling TV). One of the biggest draws of Sling TV is the ability to start and stop the monthly subscription rather than requiring a long-term commitment. The new free TV offerings extend the open nature of Sling TV.
A base subscription is not required to watch free shows. Users need not even sign up or sign in. Simply choose "browse as guest," then click on the My TV tab to see free content.
Presently, single episodes of many popular shows are available, including Shameless, Homeland, SMILF, The Affair, Billions, and more. A few shows offer more than one episode. Users can watch six free episodes of Heartland, 13 of TruTV's Adam Ruins Everything, and two of The Big Interview with Dan Rather. About a dozen "hit movies" are also included — Poop Talk, The Word Unseen, Chico and Rita, Modigliani, The Defender, and Scorched Earth, to name a few. More choices include kid shows, a smattering of niche sports, stand-up comedy specials and news videos.
Sling TV is also offering a number of pay-per-view titles. Users don't need a subscription to rent a number of video-on-demand mainstream movies or buy "tickets" to special sports events.
Sling TV has an Orange and a Blue subscription bundle of channels as well as Extras add-on packages. The app can now help users decide which bundle is right for them. If you are interested in subscribing, click on "start your free trial now" and Sling TV will help you to decide which subscription plan or Extras to choose. Simply browse shows and movies on any tab, then select the shows you like. Sling TV will suggest subscription options to match your preferences, and you can sign up directly within the app.
The Sling TV app is further being updated to include a few new convenience features. When searching for a title, "popular searches" results (what's trending) will also be displayed. A binge watch feature is also rolling out with the new app upgrades. When watching a TV series, the next episode or an episode from a similar TV series will play automatically when you finish watching the current show. It's not clear whether you will be able to turn off this feature, as you can in Netflix. Sling has also announced that it may be adding ad-supported content in the near future.
A recent study conducted by TiVo showed that people prefer to stream free content when possible. Sling TV is looking to give the people what they want by streaming more and more free entertainment from the app, undoubtedly hoping to attract new subscribers.