Skullcandy's Air Raid Brings it with Badass Looks and Rugged Appeal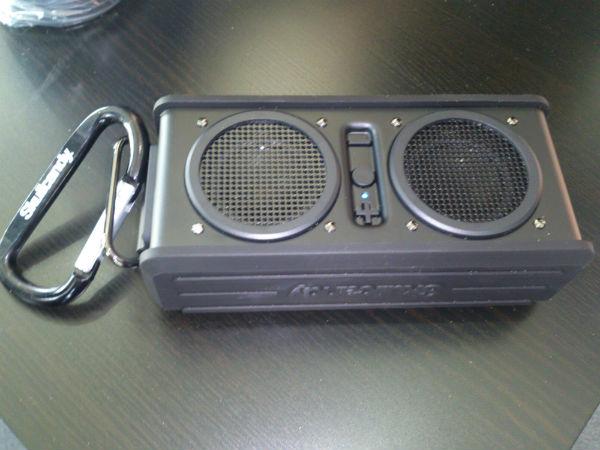 Skullcandy has an image as a badass headphone manufacturer. They showed up at CES set on keeping that reputation. The Air Raid (MSRP $150) is a portable Bluetooth speaker that plays loud, and has drop-resistance and weather-resistance to take on all the abuses you can throw at it. I chatted with Sam Noertker, one of the engineers behind the Air Raid for some inside perspective.
The Air Raid has two 50mm drivers that provide some sense of stereo. Skullcandy calls it 360-degree sound, but that's pushing it a bit. Granted, I'm checking it out in a trailer in the middle of a parking lot at the Las Vegas Convention Center, but I'm not getting any sense of a wrap-around sound. Stereo, yes. 360, no. Connectivity is a breeze and it connected to my Sony Xperia without a hitch. It has track functionality so I could skip tracks directly from the Air Raid. Battery life is an impressive 14 hours at mid levels, but a mere 5 when it's maxed out. And it does max out - this baby has an 8-watt amplifier. It won't shake the foundations, but it does provide a decent sound for such a small, light (under 2 pounds) portable. Sam said that they specifically tuned the Air Raid to give the impression of loudness without distortion in the vocal range, a problem that plagues other speakers.
What is impressive is the build of this thing. Even though it's quite compact, it has a certain about of heft to it, due to the steel faceplate. Add a removable silicon "boot" that adds to the impact resistance plus a water-resistant shell and you get a portable speaker that you're not afraid to actually use. Luckily, it's not raining here in Vegas, so I can't attest to its weather resistance, but there might be a beer or two splashed on it later today and I'm sure it will survive.
Stay loud, my friend.