Size Doesn't Matter, It's How You Mount It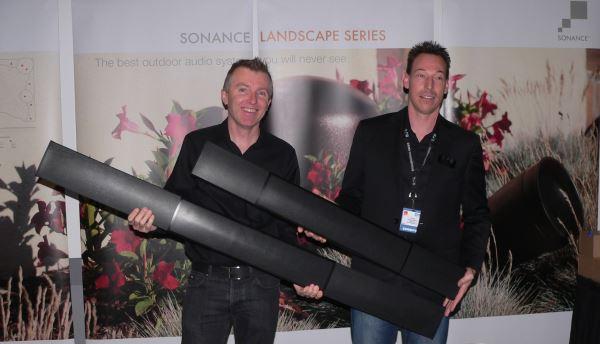 Sonance announced Soundbar, a non-powered center channel with adjustable widths meant to exactly match your TV. Soundbar are available in two sizes, one to match TV in the 50" to 65" diagonal range, the other for TV's in the 70" to 80" diagonal range. However both are true three-way designs, offering six 4.5" Kevlar + Nomex lower frequency drivers and three 4.5" coaxial (midrange / tweeter) drivers. The units ship with all required mounting hardware. Pricing has not been finalized but expect at or under $2,000.
Proud of the quality of their in-wall speakers, we were treated to a quick comparison of the Sonance VP66, a B&W 663 and a Revel W563. Because the volume levels weren't matched, I wouldn't want to draw any conclusions. But it was fair to say the Sonance VP66 more than held its own in this most unscientific of test. All the speakers sounded wonderful, and considering they were in-wall speakers all around the $700 (each) mark, an amazing marriage of aesthetics and performance.
WHERE TECHNOLOGY BECOMES ENTERTAINMENT