SI Transformer Switches Aspect Ratio Like Magic
Screen Innovations (SI) showed their Transformer screen last year, but it's only now being readied for full production. It can service films of varying aspect ratios, primarily 2.40:1 and 16:9.
But instead of conventional masking, the Transformer literally rolls up the sides of the screen inside the left and right frames when switching between 2.35:1 to 16:9. Very cool. It wasn't functioning properly on the first day of the show, but hopefully they'll get the problem ironed out today. It will be made available in various sizes, but no price was quoted. It won't be cheap.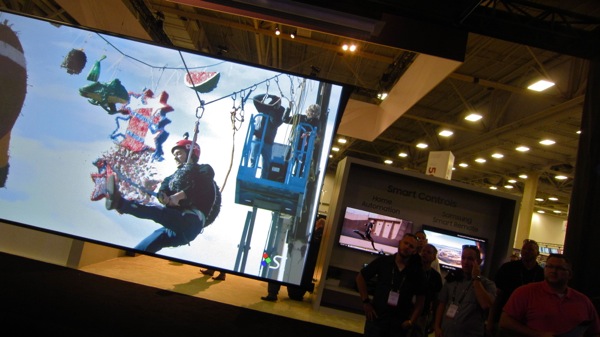 Another, um, innovation from SI is its new Zero-G retractable design. When it's not in use, it retracts up to the ceiling. When it's down, thin but strong cords lower the case to the correct height and the screen then extends from the case. Similar cords are used for tensioning the screen, and the cords can be tinted to match the wall behind them to provide further camouflage. By eliminating the conventional black drop typically used at the top of a retractable screen, it creates the illusion of a huge flat screen set floating in space. The Zero-G will be available in custom sizes; the 160-inch diagonal version in SI's booth will run you $15,000 (gulp!).
Both of these designs, of course, offer the ambient light rejection SI is famous for.