Shure's New High-End Headphones: Meet the SRH1440 and SRH1840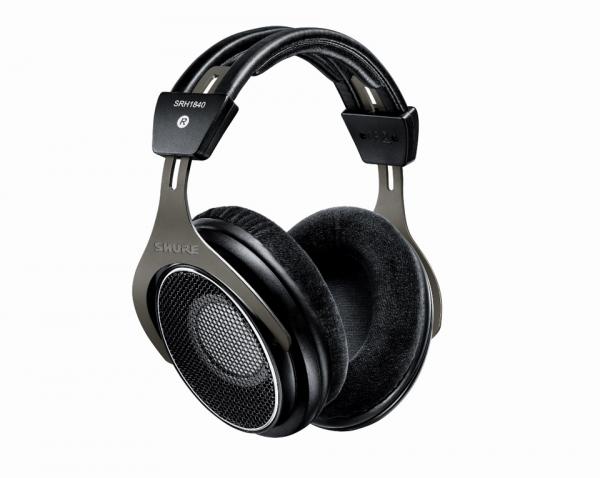 The months of online speculation have been resolved today with Shure's official announcement (at the 2012 NAMM show) of the SRH1440 ($399) and SRH1840 ($699) full-sized, over-the-ear, open-back headphones.
Shure made quite a big splash with the previous closed-back models in the SRH line. The 440 and 840 have found favor among recording professionals, and the 940 has been very well-liked by detail-oriented audiophiles and headphone enthusiasts (including the gang here at Sound+Vision)
Both the 1440 and 1840 feature 40 mm neodymium drivers ("individually matched" pairs in the case of the 1840). The 1440 is a plastic-framed unit that seems to follow on the styling of the existing closed-back line; the 1840 is a brand-new design that utilizes an aluminum frame, bringing the weight down to 268 grams.
While it's certainly not a "portable" per se with its large frame, with an impedance of 37 Ohms and a sensitivity of 101 dB/mW, the 1440 looks to be intended for use with portable sources (if your portable listening allows for an open-back phone and you don't mind a bit of leakage). The 1840 sports an impedance of 65 Ohms and sensitivity of 96 dB/mW, so it might be better off paired with a high-quality headphone amp. Seems like Shure's well aware of the demands of the contemporary high-end headphone market.
Both new 'cans ship with the usual Shure accessory kit - hard case, extra pads, extra cable - so you can rest easy that your basic maintenance needs will be taken care of from the outset. Both headphones should be on their way to retailers this month, so now's your chance to check 'em out.
We're anxious to hear these ourselves, and will be spending some time with them (and telling you all about it) as soon as we get the opportunity.