Should I Buy This Turntable?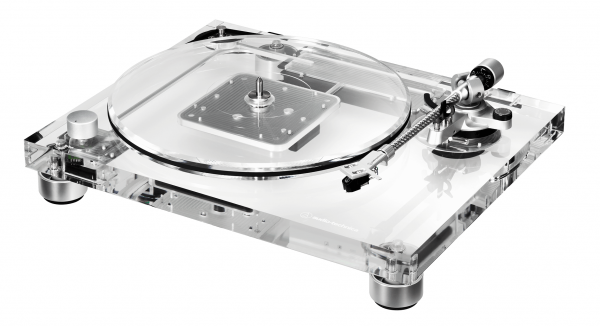 I am doing spring cleaning. Yes, it is currently winter. But I live in Florida, and it's too damn hot to do manual labor in the spring. Ergo I am currently cleaning out my storage locker. As a result, I think I have to buy this Audio-Technica turntable. I'll explain.
Howard Carter discovered Tutankhamun's tomb, Indiana Jones discovered the Lost Ark, and I have discovered my old LP record collection. Not just any records, and certainly not any recordings of Adult Contemporary Easy Listening music, I am talking about a library of absolutely legendary classical music recordings from various labels, a treasure trove of never-played and unopened Mobile Fidelity Sound Lab reissues, and assorted other really tasty vinyl.
Back in the day, because of my evangelizing for digital audio, I was widely regarded as the Antichrist by many analogphiles. What they didn't know was that while I knew The Future would be digital, I also enjoyed listening to records. I strongly believed that digital media provided a far more accurate reproduction of the master recording, but I also couldn't deny that there is just something about an analog record.... But at some point, the record collection went into the storage locker time capsule.
And now that The Future is here, those vintage LPs have re-emerged. Yes, a vintage turntable re-emerged as well, but it hasn't aged as well as the records. I need a new turntable. And, this new Audio-Technica AT-LP2022 (finally, a model number that makes sense) has caught my eye.
Just the facts: Released on the 60th anniversary of the founding of Audio-Technica by Hideo Matsushita; manual belt-drive; limited production of 3,000 units; claimed by A-T to be "the finest turntable A-T has ever created;" 30mm-thick acrylic chassis, and acrylic platter; a carbon-fiber tonearm mounted on a metal base, with adjustable vertical tracking angle, tracking force and anti-skating; height-adjustable isolation feet; external power supply; an elliptical AT-VM95E cartridge in black housing pre-mounted on an AT-HS4-SV headshell, as well as an AT-VMN95SH Shibata stylus with clear housing; the VM95 cartridge can be fitted with other stylus geometries; retail price of $1200.
I like this turntable for three reasons. First, although some may eschew the acrylic as a gimmick, I quite like it. The plastic should be reasonably anti-resonant, and I greatly appreciate the see-through aesthetic that shows off the inner workings. I have built of number of DIY audio devices and computers and chose to build them as exoskeletons to show off the workings.
Second, I like its simplicity of design. A turntable should spin records and allow for correct tracking– that's all. No bells and whistles like Bluetooth connectivity (heresy), a changing mechanism (burn it with fire) or any other Baroque stuff.
Third, it's made by Audio-Technica – IMHO they make excellent turntables at fair prices. I have never been interested in turntables that cost more than an Italian handmade steel bicycle frame. Or, to put it another way, if I had several thousands of dollars to spend, I'd rather get an expensive bike than an expensive turntable; I respect the fact that you may choose otherwise, even though you would be wrong.
In any case, here I am. It is currently The Future, and I am shopping for a turntable, a decidedly vintage technology. I never thought I would be doing this. Maybe at some point I slipped into an alternate universe. Maybe that's why I'm shopping for a turntable. Maybe that's why I'm doing spring cleaning in winter.