Shootout: Three Budget HD Front Projectors Page 2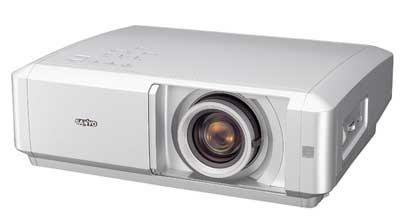 Sanyo PLV-Z5
The buzz surrounding the Sanyo PLV-Z5 was loud and clear well before the company released it back in fall 2006. That's because of the many good things people had to say about the company's previous 720p LCD front projectors, the PLV-Z4 and PLV-Z3. Rather than being a radical remake, the Z5 offers a modest boost in light output over the Z4 along with expanded input and color-tweaking options. And it looks almost exactly the same, with a boxy, silver-toned case and a motorized lens door that slides open or closed when you turn the Z5 on or off via remote control.
For an affordable projector, the Sanyo is packed with tons of useful setup features. Its 2x zoom lens gives you a throw-distance range of 9.8 to 20 feet with a 100-inch screen. Along with manual zoom and focus controls, there's a set of horizontal and vertical lens-shift dials located on the projector's side. Another notable feature is a twin-iris system to fine-tune picture contrast by modulating the amount of light hitting the LCD panels in the projector's display engine as well as the light entering the projection lens. And then there's something Sanyo calls 3D Color Management that gives you color-tweaking options that go beyond the standard saturation and hue controls found on most projectors.
The generous assortment of connections on the Z5's back panel includes a pair each of HDMI and component-video inputs, as well as a VGA port for an analog computer connection. Its mini-sized remote control has a toy-like appearance, but the buttons on its keypad are cleanly arranged and the whole thing is backlit. A set of five direct input buttons let you switch sources quickly without toggling through onscreen menus, and there are also dedicated buttons for tweaking brightness, color, contrast, and the Lens Iris adjustment. Pressing the Screen button lets you toggle through the Sanyo's aspect-ratio selections. For high-def sources, these include Full (16:9), Zoom, Caption In, and Natural Wide (a stretch mode). With standard-def sources, you get three additional options: Normal (4:3), Normal Through, and Full-Through (displays the image "as is" without scaling).
LATEST VIDEO