Sharp LC-90LE745U 3D LCD HDTV Page 2
As with virtually all of today's sets, the Sharp can play photos, videos, and music either from a USB memory device or a computer. Sharp's SmartCentral Internet feature can also connect you to the Web over your home network for surfing or linking to one of the free or subscription services accessible directly from Sharp's onscreen menu. You can also update the set's software from the Internet over your home network, either wired or wirelessly, or from a USB memory device.

2D Performance
The Sharp sailed through all of our standard video processing tests without a hitch. But this was true of 1080i and 480i material (the 2:2, 3:2, MA HD, and SD tests) only when the Film Mode was set to Advanced or Standard.
Awesome was the word that came to mind when I first laid eyes on the Sharp. There's no question that such a big, bright image, viewed from 10 feet away, definitely grabs your eyeballs. But that knock-me-out impression wasn't from its size alone. The picture itself could be dazzling with the right source. Fleshtones looked real. Well-lit and -photographed green foliage, after a proper calibration, looked correct rather than Crayola toned. While the color with the widest deviation from technical accuracy after adjustment was red (see HT Labs Measures), it never looked visibly wrong.
With some material I did feel that the picture was a little less achingly crisp than with a comparably priced projector and screen (or even one of the better, considerably less expensive choices, such as JVC's $3,500 DLA-X30). But such a conclusion would be dicey at best without a carefully controlled, side-by-side comparison. Baraka, still one of the best-looking HD discs available, gave no hint of less than topnotch resolution. Nor did The Art of Flight, another stunning transfer. Both discs looked amazing from start to finish. At just a hair under 14 foot-lamberts, the picture was more than bright enough—and there was additional upside range still available on the Backlight control (and the Contrast control as well) for more brightness.
But two issues kept the Sharp from earning a perfect score. The most obvious, and expected, was its off-axis performance. The colors at the extreme side of the screen fade noticeably if your seat is near the opposite edge. But the problem was less pronounced than I expected, and most viewers are unlikely to be bothered by it if they are seated at least 10 feet from the screen. The closer you sit, the more pronounced your angular position to the screen becomes, and the more obvious the fading. The money seat, however, and the best overall picture, is still at the center.
The second issue is black level and shadow detail. Yes, the Sharp's measured black level is outstanding—among the best we've ever recorded (see HT Labs Measures). On a full black screen, the corners are slightly lighter than in the center, though not enough to be obvious or distracting. This backlit set's black uniformity is far better than we've seen from any edge-lit design.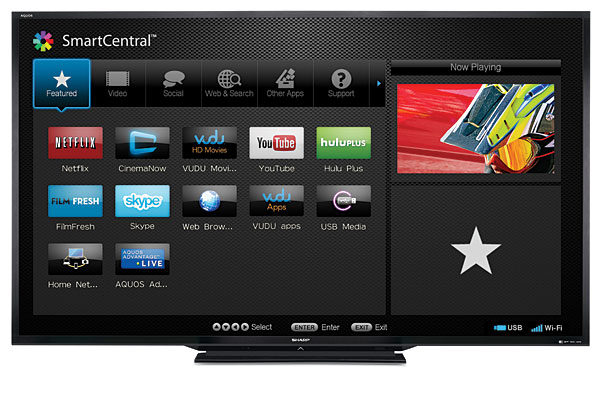 But because of the global dimming of the set's LED backlighting, even a small, bright area intruding onto an otherwise black screen (such as the pause bug on a Blu-ray player) increases the overall black level. The measured increase is small, but the visible increase is obvious. Because of this, very dark, low-contrast scenes don't fare particularly well. I doubt if any video display can do full justice to the darkest scenes in Harry Potter and the Deathly Hallows Part 2, but there are others currently available that can do better on them than this Sharp. These include Sharp's own Elites and the new Panasonic plasmas (see our review of the Panasonic TC-P65VT50 in this issue). So also can a few affordable projectors. To be fair, the Elites and Panasonics have far smaller screens, and to achieve the best blacks with a projector, you must view it in a completely darkened room.
On less than the very darkest scenes, particularly scenes with a few bright highlights set off against dark backgrounds (more typical of dark scenes than the black-to-dark-gray brightness range in the torture scenes mentioned above), the Sharp's performance is comfortable, though not trend setting. I'd love to see this set with full local dimming, but that would likely increase the price considerably. Still, a 90-inch Elite…
3D Performance
The resolution, color, and depth the Sharp can generate in 3D are all first-rate and often mind-blowing. Toy Story 3 looked absolutely amazing, with a riotous blend of vivid color and densely packed detail. Avatar, Despicable Me, Tron, and Tangled were, in their own ways, just as jaw dropping.
A big contributor to this performance is the Sharp's 3D brightness. I achieved a comfortable peak level of approximately 10 ft-L. That might not sound like much, but it was almost as satisfying as I've seen in a first-rate, dual-projector IMAX theater. Not once did I find the image too dim. And there was still backlight and contrast range to spare—though not as much as in 2D. For me, the 3D champ remains Sharp's Elite, but that model cannot equal the immersion of this set's huge screen.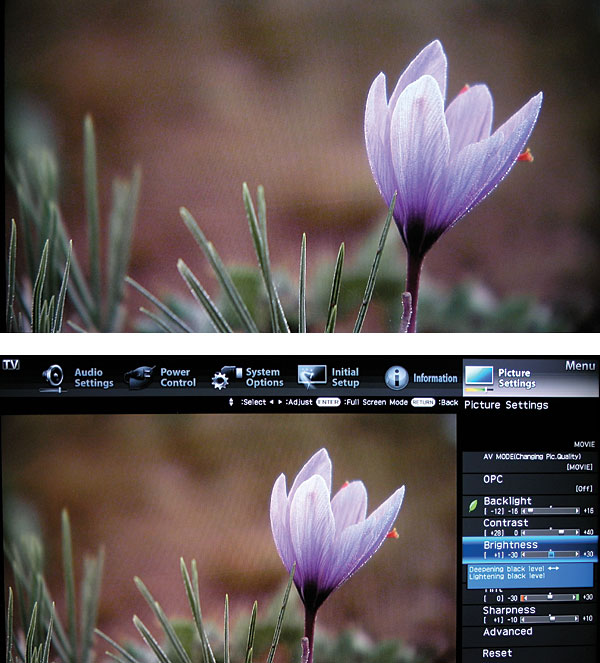 The set's 3D black level looked even better than in 2D. There aren't many 3D movies with severely challenging dark scenes (filmmakers must realize that such scenes just won't work in the average dim 3D theatrical presentation), but Tron is probably the closest. While I've seen deeper blacks and better contrast from this movie on a few other displays, it worked convincingly for me on the Sharp—as did the night jungle scenes in Avatar.
But while at first I was blown away by the Sharp's 3D performance, I soon noticed a significant problem: the worst 3D crosstalk (ghosting) I've yet seen. All of the above-mentioned titles were affected by it to one degree or another—Tangled the most, Tron the least. Experimenting with the various 3D controls did nothing to eliminate or minimize it on native 3D material, but turning the Convert Effect control down to its minimum setting (+1) reduced it significantly in the 2D-to-3D conversion mode.
The crosstalk issue was so serious that I suspected something was wrong. I contacted Sharp, and they advised me that this was an early sample fault. Sharp engineers were still working on the problem as we went to press but promised a second sample soon. Check back later for any updates. In the meantime, if you're considering this set, be sure to check closely for this problem, before purchase, with one or more of the previously mentioned discs—or others.
Conclusions
Yes, the off-axis concerns remain, but that's a generic issue with all LCD sets to one degree or another. And if you want state-of-the-art black level and shadow detail (not just measured, but visible), this may not be your display. Furthermore, short of a fix for the crosstalk, fans of 3D might want to look elsewhere. But even with these caveats, there's no denying that the Sharp LC90LE745U provides something rare indeed in today's flat-panel market: a true projection-size home theater experience, without the projector.
LATEST VIDEO