Sharp LC-52LE700UN 52-Inch LCD HDTV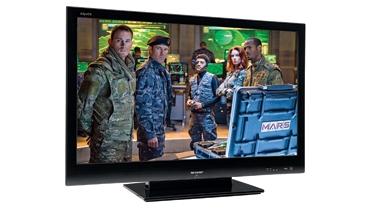 Key Features
$2,000 Sharpusa.com
• 1080p resolution • Full-array LED backlight • 120-Hz Fine Motion Enhancement mode • AquosNet online widgets • Aquos Advantage live product support • USB photo viewer with music player • Inputs: (4) HDMI, component-/compositevideo, component-/S-video, composite-video, RGB PC, RF antenna/cable; USB, Ethernet, RS-232C • Outputs: Analog stereo audio, optical digital audio Dimensions • Weight 48 ¾ x 32 ¼ x 14 in (with stand); 57 ¼ lb (with stand)
About a year ago, I reviewed Sharp's first LED-backlit LCD HDTV, the LC-52-XS1U, a slick $12,000 special-edition set with a stunning stainless-steel rimmed screen that delivered some of the deepest blacks I'd seen on a flat-panel TV, although a few other picture-quality considerations damped my enthusiasm for it. Now here come Sharp's second-generation LED models, including the 52-inch LC-52LE700UN, an affordable TV that's selling for $2,000 or less at respectable online retailers. This new set's arrival got me wondering: With a little more LED engineering under their belts, could the wizards at Sharp conjure up a winner this time?
Visually, the LC-52LE700UN is what you'd expect: a big screen surrounded by a highgloss black bezel. Directly below the screen is a narrow strip with the Sharp logo above a stylized blue LED (which can be turned off) and some green pilot LEDs. To keep the TV's speakers out of sight, Sharp placed them beneath the bezel, pointing down.
A convenience jack-pack offers up a single HDMI jack, a composite-video/stereo audio input, and a USB port for loading up the set's integrated photo/music player. Connections on the rear panel include three more HDMI jacks, component-video and RGB inputs, and an RS-232 connection for advanced system controllers. There's also an Ethernet connection for tapping into Sharp's Aquos- Net and enjoying online content and widgets from the likes of Weatherbug, NAVTEQ traffic, MSNBC, NBC Sports, Picasa (online photo sharing), Screen Dreams (onscreen art/photos), and others.
The TV's contoured universal remote can control up to four other components from Sharp or other manufacturers. The navigation pad, channel/volume rockers, and Menu button are all in easy thumb-reach at the middle, while the frequently used Input and Net buttons are just above. A View Mode button up top cycles through aspect-ratio modes, including Stretch, Dot-by-Dot, Super Stretch, and Zoom for HD signals.
SETUP
The LC-52LE700UN has eight picture presets. Of these, only the User preset can be individually adjusted and stored separately for each input; settings for the others apply globally to all inputs.
Out of the box, the Movie preset provided the best-looking picture, though I opted for the User mode instead so I could make custom adjustments for each of my sources. I should note here that the LC-52LE700UN uses a full-matrix LED backlight array rather than the edge-lit LED backlight in some other LCD TVs. However, unlike other full-matrix LED models, it doesn't apply local dimming, a process where the set analyzes the signal and switches the backlight off only in dark areas of the image to boost contrast.
Color adjustments also took longer than usual, thanks to skin tones that almost always looked too pink or too orange with every picture preset. Furthermore, the set's grayscale displayed a blue bias even with its Low color-temperature setting selected. Fortunately, I was able to use the White Balance adjustments in the Advanced Video menu to smooth it out and bring things acceptably close to the neutral-gray 6,500-K standard, and the Sharp's extensive individual color controls further helped me to fix the color. (See Test Bench for details.)
For my evaluation, I turned off any automatic controls that might affect picture contrast and left on the 120-Hz Fine Motion Enhancement mode, which had the effect of subtly improving detail with fast-moving objects in video-based content. A separate Film Mode control has two "Advanced" settings that provide pulldown processing for movies while also smoothing judder on shots with horizontal motion (camera pans and the like). Both worked well, but the Advanced High setting made movies look too much like they were shot on video, and while Advanced Low struck a good compromise, I instead chose the Standard setting for critical viewing. The Sharp's digital noise-reduction circuit also did a great job cleaning up noise in both high-def and standard-def programs without notably hurting detail.