Searching for Mr. Big Screen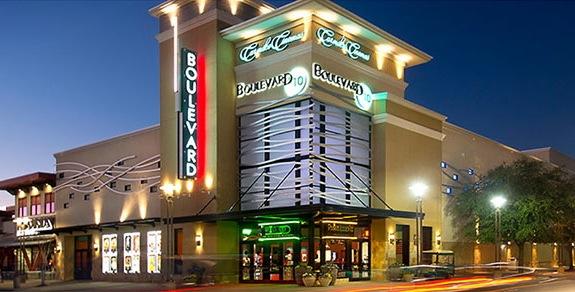 Living in coastal northwest Florida has its benefits, but first-rate movie theaters isn't one of them. In moving from the Los Angeles area last year I left behind some of the best movie theaters in the country. I lived 10 minutes from a 16-screen AMC multiplex in Burbank. Two of its auditoriums were jumbo-sized (about 400 seats). One of them was IMAX and the other AMC Prime. The latter was upgraded about a year before I left with Dolby Atmos, reclining seats (yea!), and seat shakers (boo!). Shortly after I moved they did a further upgrade to add Dolby Cinema, with video enhancements offering significantly deeper blacks and high dynamic range (or at least as high a dynamic range as projection can muster—flat screen sets have inherently higher peak brightness than any projector can achieve).
I was also 30 minutes from the Arclight in Hollywood, a multiplex built around the vintage Cinerama Dome. Hollywood also features the El Capitan, which includes some aspects of Dolby Cinema (though not all), and the TCL (formerly Graumann's) Chinese theater. A couple of years before I moved the latter also underwent a major renovation, adding stadium seating, a 90-foot wide scope screen, and IMAX projection.
All of this was within a 30-minute drive or less from my old house. Things here are a bit different. Yes, there are three multiplexes within 30 minutes of my new home. Two of them are worse than mediocre, though like most theaters today they do have digital projection. The other, an AMC complex in Destin (a modestly upscale resort town on the Gulf of Mexico), does have an IMAX auditorium. It's decent (though better for 2D than 3D), but with just over 300 seats it's tiny as IMAX theaters go. Still, it's hard to complain when the ticket price there is $3-$4 less than at the Burbank AMC. There's no free lunch!
Fifteen minutes further from my house than the Destin AMC theater is the Carmike Boulevard. I went there first last summer to try its premier house, the so-called "Big D" theater. From a design standpoint this auditorium is a home run and one of the finest theaters I've ever seen. It offers just over 400 high-quality, comfortable seats (but no recliners or shakers—I can cope!). The screen is almost 60 feet wide. The sound isn't the best I've heard in a theater but it was close, and while plenty loud it didn't cut through my head—or at least not often.
But the picture was awful. Its brightness was acceptable but barely. The picture lacked depth (yes the presentation was 2D, but even 2D can have a passable appearance of depth). And it was soft. Very soft. Standard definition-like soft. When I complained to the day manager he went up to the projection booth and checked the focus (as is common today, there was no full-time projectionist). That didn't help, so what I saw was apparently the best the projector can do. I asked for and received a refund.
But I vowed to give it another shot, hoping that with the passage of a few months someone would recognize the problem and fix it. So this past weekend I went back. The movie was The Finest Hours (excellent). (The AMC IMAX was showing it only in 3D and I wanted to see it in 2D). This time I stayed for the whole film but once again, ironically, it was not the theater's finest hour. The result was the same as before: dull and soft. The blacks were also mediocre—a serious shortcoming in a movie that's inherently dark and murky. To be fair, however, even otherwise good theatrical digital projectors have poor blacks, apart from Dolby Cinema and perhaps the few theatrical venues (like the TCL Chinese) that currently have laser-illuminated projectors.
The theater also had four bright exit signs clearly visible from my seat, two on each side of the theater. Apart from the distraction, when I looked carefully I could see the reflection of the signs' green light at the lower corners of the screen. Exit signs are mandatory, but do they have to be this bright?
To sum it up, the visual presentation here showed all the signs of a projector (and a projection lens) inadequate in both brightness and resolution to comfortably fill a screen this size. The fact that most moviegoers apparently don't notice or don't care is depressing.
I suspect this is a widespread issue, which is why even a modest home theater setup can equal or exceed the performance of the best cinemas in most parts of the country in every respect apart from picture size.
After arriving back from the show I spent many hours at home viewing 1080p Blu-ray material, upconverted to 4K on the 2015 LG EF9500 65-inch OLED. Simply jaw-dropping. For more, keep an eye out for our review. Yes, the challenge of producing a beautiful image on a 65-inch screen is infinitely less challenging then doing the same on a screen more than 125 times its size. But I've seen it done in a more than acceptable manner on screens of that size or larger. And even a good but modestly-priced LCD/LED flat screen set is capable of producing far better images than I saw at the Boulevard Big-D.