Samsung UN40EH6000 LED-LCD TV HT Labs Measures
HT Labs Measures
Contrast & Resolution
Peak white level: 30.3fL
Black level: 0.007fL
Peak contrast ratio: 4329:1
At the default (maximum) Contrast setting in Movie mode, whites were badly clipped, so I reduced this setting until the clipping disappeared. Even so, at the default (maximum) backlight setting, the peak white level measured 63.2 foot-lamberts, so I backed it off until I got a peak-white level around 30fL.
Even with all dynamic functions disabled, the LEDs drop to zero when a full-screen black field is displayed, so I measured the black level with the 0-percent PLUGE pattern from Digital Video Essentials: HD Basics, which includes slightly above-black bars on the sides. This prevents the LEDs from dropping to zero, which is not realistic for real-world content.
Grayscale & Color Accuracy
The pre-calibration grayscale had a bit too much blue and not enough red across the brightness range, even with the Color Tone control set to Warm2. Still, delta E (a measure of the error in the grayscale) ranged from 1.2 to 2.8; anything less than 3 is considered indistinguishable from correct, so this set does not require a professional calibration. The average gamma was 2.3.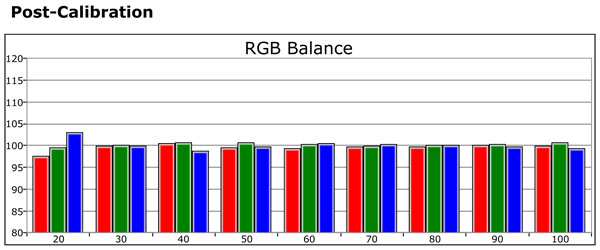 Of course, I couldn't help trying to get the grayscale closer to perfect, which I was able to do very easily. Delta E was less than 1 across the board, and the average gamma was still 2.3.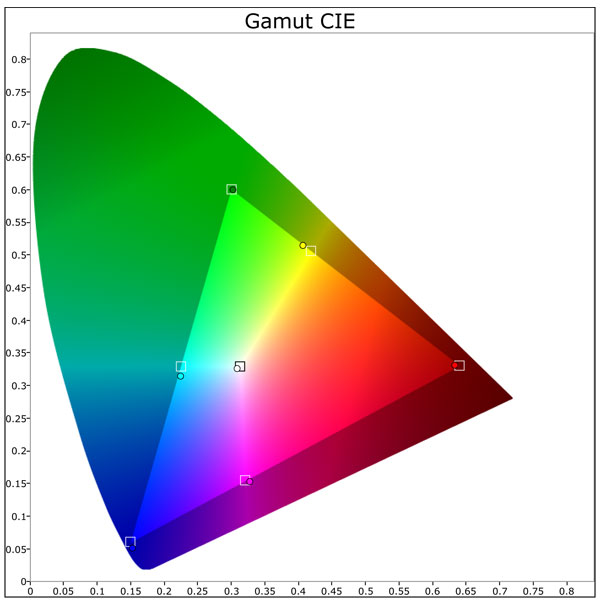 The colors were close to their specified positions on the CIE chart as seen here. Yellow was a bit too green, cyan was slightly too blue, red and magenta were too bright, blue was too dim, blue and magenta were too saturated, and blue's hue was off, but none were very far from where they should be. This set offers no color-management system, so I could do nothing to the colors directly.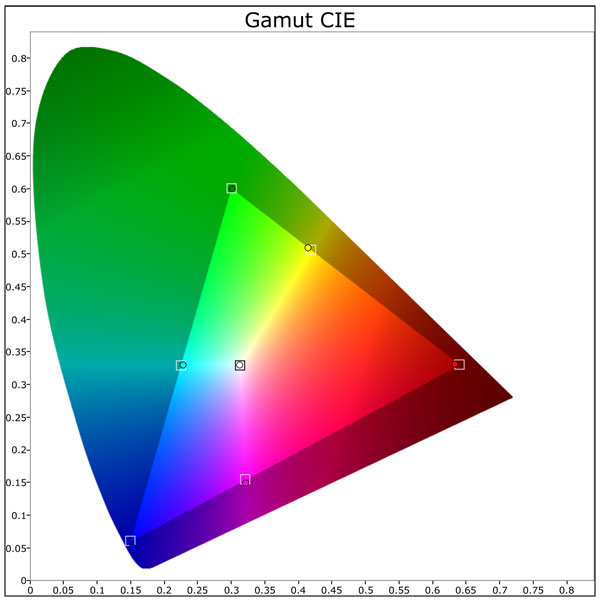 Even without a color-management system, yellow and cyan were closer to their targets after a grayscale calibration.
Video Test Bench
| | | | | | | | | | |
| --- | --- | --- | --- | --- | --- | --- | --- | --- | --- |
| 3:2 HD | 2:2 HD | MA HD | 3:2 SD | 2:2 SD | MA SD | VIDEO CLIPPING | BLACK&WHITE RESOLUTION | COLOR RESOLUTION | SCALING |
| PASS | PASS | PASS* | PASS | PASS | PASS | PASS | PASS | BORDERLINE | EXCELLENT |
3:2 = film-originated content sent interlaced to display (broadcast movies and many TV shows)
2:2 = progressive video-originated content sent interlaced to display (not common)
MA = Motion Adaptive (interlaced video-originated content sent interlaced to display; becoming common for 1080i TV shows)
The UN40EH6000 did very well on most of our video tests. I saw some flickering in the MA HD deinterlacing test, as well as some rolloff in the horizontal HD chroma resolution test. Oddly, in the SD chroma resolution test, both the horizontal and vertical were very rolled off at the highest frequency, even though that frequency looked fine in the HD test.
The TV passed the scaling test (which includes moving letters) beautifully, but the lettering in real-world 480i content flickered pretty consistently. So I would have the source component or AVR do the upscaling with this set.
LATEST VIDEO