Samsung PN58C7000 Plasma 3D HDTV
Price
: $2,700
At A Glance
: Superb resolution • Accurate color • 2D-to-3D conversion mode • Solid blacks and contrast
3D Gets Big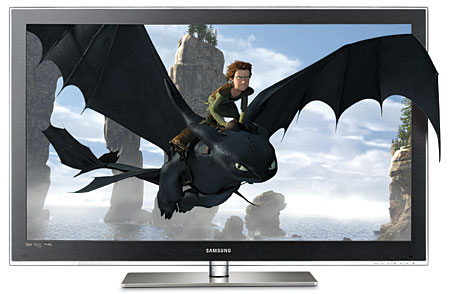 It's been over a year since we last reviewed a Samsung plasma. That's no surprise. LCD displays now dominate the HDTV market to the tune of over 90 percent. In general, our reviews have followed that trend.
Not that we necessarily prefer LCDs here at Home Theater. Sure, they're brighter than plasmas. But plasmas are certainly bright enough for any practical home application. Plasmas also offer superior motion performance with no need for frame interpolation, far better off-axis viewing, typically lower cost at comparable sizes, and superior black levels and shadow detail (though not always).
Samsung is a leader in LCD sales, but the company still offers a wide range of plasma designs. At $2,700, the 3D-capable, 58-inch PN58C7000 (hereafter referred to as the 7000—where do manufacturers get those model numbers?) promises remarkable value—if it performs. That's what we're here to find out.
Nosing Around
The Samsung's analog video input set may be relatively sparse, but it's an HDMI world, after all, and the set offers four HDMI connections. The input configuration also contributes to the set's 1.4-inch-thin design.
There are four Picture Modes. In addition to the usual video adjustments, all of the more specialized picture controls described below are available in the Movie mode (which I used for 2D). Access to some of them is limited in other modes, and limited in 3D as well. I recommend that you turn off the set's BD Wise feature, which automates some of the set's controls and can interfere with dialing in a properly adjusted picture.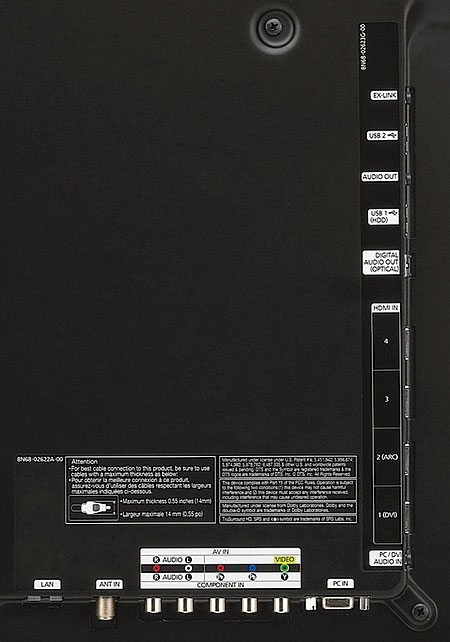 A Cell Light control alters the overall image brightness without disturbing the Contrast and Brightness settings. Cell Light functions much like the Backlight control in an LCD set, although a plasma display, being selfilluminating, has no backlight.
Two submenus—Advanced Settings and Picture Options—add more controls. Black Tone darkens the bottom end of the image. I didn't use it. Dynamic Contrast adds punch, which creates the illusion of better contrast. I found its Low setting useful for some 2D material but mostly left it off. The Gamma control was definitely helpful.
My preferred settings were from –1 to +1, depending on the source. Most material looked best at 0, which produced an average measured gamma of 2.35. Higher settings of the Gamma control lighten the image (reduced gamma), and lower settings darken it (increased gamma). Recommendations for playback gamma generally range from 2.2 to 2.4.
The set also offers a color management system (CMS), under the Color Space control. When set to Custom, the CMS can move the primary and secondary color points as needed. With the Color Space control in Auto and a high-definition source, the Samsung's color gamut was a near-perfect match to the Rec. 709 HD standard.
That doesn't mean that the set's CMS is superfluous. Like all phosphor-based devices, a plasma set's color balance can change with age. In some future recalibration, likely after hundreds or even thousands of hours of use, a good CMS might make the difference between slightly improved color and color that's like new. Since we can't predict how any display's red, green, and blue phosphors will age relative to each other, we can't be certain how effective the 7000's CMS will be at this future task. But it should be more effective than not having a CMS.
The Samsung's White Balance controls offer both high and low red, green, and blue adjustments. But the set goes one step further. There's also a separate 10p White Balance menu (not available in 3D mode), with adjustments at 10 points across the brightness range.
The RGB-only control can display the red, green, or blue components of the image in isolation, which is very useful for setting the Color and Tint controls.
Samsung's menu structure for this set is identical to the ones we've seen in other recent Samsung designs. As before, the onscreen adjustments time out far too soon, particularly White Balance and Color Space. This won't be a problem for the average user. But it can be a headache for calibrators when a chosen adjustment menu reverts to a prior selection menu, filling the screen and interfering with the measurements.
The remote is good. There's no direct access to inputs, but it's fully backlit. The buttons are comfortably large and, for the most part, easy to find.