Samsung HPN6339 63-inch Plasma HDTV Monitor
Photos by Tony Cordoza
The words "flat-out huge" come to mind when I try to describe Samsung's HPN6339. This massive panel claims the title of the world's largest plasma TV - at least until the Korean electronics giant begins selling its 70-inch model, announced last spring. Despite the bragging rights that come with owning this TV, not many folks will want to shell out the 22 grand it costs to make this set a part of their lives. Naturally, your buck will go a lot further with rear-projection or front-projection technology, but that's hardly the point. The most important thing to remember is that you can hang the HPN6339 on the wall.
The biggest plasma TV in the world is almost all screen. A 1 3/4-inch-wide border of charcoal-gray plastic surrounds the massive pane of glass on all sides, and a pair of full-height, detachable speakers can be hung on either side. Samsung also offers an optional stand, but since it requires a 13 x 44-inch base to adequately support the massive set, most owners will probably mount this baby on the wall using the optional bracket. Amazingly, the HPN6339 is no thicker than its smaller-screen brothers, measuring only 3 1/2 inches deep. A fan-less design keeps the set whisper-quiet during operation.
FAST FACTS
KEY FEATURES • 63-inch (diagonal) 16:9 plasma display • 1,366 x 768-pixel (WXGA) native resolution; accepts up to 1,024 x 768 via DVI or 1,280 x 1,024 via VGA input • Side-by-side (split-screen) or inset picture-in-picture
INPUTS DVI (with HDCP copy-protection), VGA, composite/S-video, standard and wideband component video, all with stereo audio; RF antenna/cable
OUTPUTS L/R front speaker-level and subwoofer line-level audio
DIMENSIONS 59 1/4 inches wide, 35 1/4 inches high, 3 1/2 inches deep
WEIGHT 153 pounds without stand
PRICE $22,000; optional stand, $350; wall bracket, $350; speakers, $230 a pair
MANUFACTURER Samsung Electronics America, Dept. S&V, 105 Challenger Rd., Ridgefield Park, NJ 07660; www.samsungusa.com; 800-726-7864
The input/output bay faces downward to keep the cables flush and out of sight. Many plasma TVs these days come with an external A/V control center so you don't have to connect any of your sources directly to the panel, but the HPN6339 does not. That makes wall installation trickier because all those wires must be hidden. Of course, you could always avoid this problem by connecting your program sources through a receiver and then running the few remaining wires from the receiver to the panel.
Using some sort of switcher or an A/V receiver makes the most sense anyway, since the HPN6339 has only one composite- and one S-video input. The side input bay does host a nice ensemble of higher-quality jacks, including a pair of component-video inputs, a VGA-style computer input, and a DVI (Digital Visual Interface) input, which incorporates HDCP copy protection so that it will work with the latest HDTV set-top boxes and satellite receivers as well as DVI-equipped DVD players.
A computer can be connected to either the VGA or DVI jack, and the display can accept resolutions up to 1,024 x 768 via DVI or 1,280 x 1,024 via VGA. A convenient PC menu control allowed me to size the image correctly, although it wasn't accessible with a high-definition DVI source.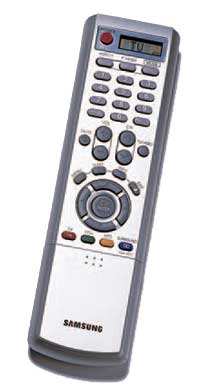 Samsung has redesigned its hallmark silver remote for the better, and I liked its friendly layout and well-differentiated buttons. Selecting inputs was a matter of pressing the TV/Video button and choosing one from the menu - an arrangement I found more convenient than cycling through them all, but I still would have preferred a group of direct-access buttons. An LCD at the top of the remote shows the name of the device to be controlled, but neither the display nor the rest of the remote is backlit - c'mon, guys, we're talking about a $22,000 TV here! Preprogrammed codes for various brands of DVD player, cable box, and VCR allow the remote to command other gear, but it can control only Samsung-brand HDTV tuners.
As with most HDTVs, the number of available picture modes - accessible via an Aspect button - depends on the input source. There are five choices for standard sources, including a Panorama mode that stretches the edge of the image more than the center, and a pair of Zoom modes that allow vertical positioning so you can, for example, catch the score at the top of the screen. When I switched to 480p (progressive-scan) format, or HDTV connected through component video, the Panorama option became inactive - but I was able to vertically reposition images in every mode. Using the DVI input only gave me a choice between Normal mode, which places gray bars to either side of a 4:3 image, and Wide, which fills the screen with 16:9 material.
Happily for anyone who wants to surf the Web while watching TV, the versatile split-screen/picture-in-picture (PIP) function works with every source. You can display any input source along with any other, either as a smaller inset image or in a split-screen arrangement. In spilt-screen mode, widescreen sources are squished horizontally, making everything look tall and skinny, but the images are still so big that warring couch potatoes don't have to compromise - you can watch Dr. Phil and check out the scores on ESPN at the same time.
If you like to optimize your TV for different video sources, you'll appreciate the HPN6339's ability to remember different picture settings individually for each of the inputs. In addition to one custom picture preset, Samsung also provides three factory presets: Dynamic, Standard, and Movie. I liked Movie best for low-light viewing.
LATEST VIDEO