Samsung HP-S5053 50-inch Plasma HDTV Page 2
The Short Form
$2,800 ($3,500 LIST) / 31.5 x 48.3 x 3.8 IN / 94 LBS / samsung.com / 800-726-7864
Plus
•Crisp HDTV picture •Vivid, natural color •Nice looks •Nice price.
Minus
•Limited shadow depth with dark images •Banding artifacts occasionally visible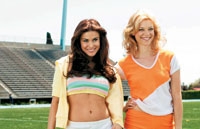 Key Features
•1,366 x 768 resolution plasma display •Built-in HDTV tuner •Picture-in-picture •DNIe processing to improve look of analog TV •Inputs 2 HDMI, 2 component-video, and 2 composite-/S-video, all with analog stereo audio; VGA with minijack analog stereo audio; 2 RF antenna; analog stereo audio (for DVI source) •Outputs Optical and coaxial digital audio; analog stereo audio •Price $2,800 ($3,500 list)
Test Bench
The Samsung HP-S5053 HDTV's color temperature measured close to the 6,500K standard after picture tweaks were made to its Movie preset with the Warm 2 Color Tone mode selected. Fine-tuning via the service menu resulted in an even more accurate grayscale. After calibration, the TV's grayscale tracking was ±500K from 30 to 80 IRE - below-average performance. Color decoding varied from +10% red push on the HDMI input to +10 green on the component-video input. Picture overscan (the amount of picture area "hidden" behind the edges of the TV's screen) was 5% for both the HDMI and component-video inputs - higher than normal. The set's measured picture resolution was excellent for all high-def inputs, but its picture looked somewhat soft with standard 480i programs. Full Lab Results
PICTURE QUALITY
Testing the Samsung HP-S5053 turned out to be the perfect excuse to pull out the DVD of Starsky & Hutch, a movie I've secretly wanted to check out for some time. Watching a shameless scene where the leisure-suited detectives (Ben Stiller and Owen Wilson) interview football cheerleaders during an investigation, the sunlit image looked punchy on the Samsung, showing off the TV's strong contrast and subtle, balanced highlights. The girls' amply displayed skin tones came across as completely natural in this scene. At the same time, bright colors like an orange outfit worn by one cheerleader, as well as the green turf of the football field, looked vivid and clean.
I next tuned our Dish Network receiver to travel guru Rick Steves' high-def program on HDNet. The Samsung showed an impressive range of subtle colors in the gardens at the Giverny estate of the French Impressionist painter Monet. It was like watching a canvas in motion! To check the HP-S5053's ability to deliver high-def detail, I pulled out Toshiba's new HD DVD player, booted it up, waited, and dropped in an HD DVD of the sci-fi film Serenity.
Watching a scene where the spaceship's crew discovers some mates dying on a dusty planet, I could clearly see the fine strands in the salt-and-pepper beard of Shepherd Book (Ron Glass), as well as the coarser texture of the burlap sacks his head was propped on. The crispness of the HD DVD picture here didn't come close to equaling that of a 65-inch 1080p-resolution rear-projector I'd been viewing prior to the Samsung (a much more expensive option), but it was still very sharp and satisfying.
Checking out another HD DVD - the movie spinoff of the videogame Doom - the Samsung continued to look sharp, but it definitely came up short when displaying the movie's many dark scenes. Blacks looked deep, but the HP-S5053's limited capacity for fleshing out shadows in dim shots obscured details such as the interior structure of a facility the marines investigate. For instance, as Sarge (The Rock) and crew made their way through tight, dark tunnels, their faces and hands seemed to float on the black background. Also, a degree of "banding," or false contouring, could be seen on the walls in a few lighter shots - an artifact that also gave the actors' skin tones a somewhat coarse look.
BOTTOM LINE Samsung's reasonably priced HP-S5053 50-inch plasma HDTV has several things going for it: a big image, great looks, a crisp high-def picture, wide-ranging connection options, and useful extras not always found in budget flat-panels. Although its handling of dark images was a notch below that of the best plasmas, its overall performance was more than satisfactory with most programs. With sets like this now selling for less than three grand, there are more reasons than ever to choose a flat model over a bulkier rear-projection set for bigscreen entertainment.
Read the Full Lab Results HDTV Info Center Back to Homepage What's New on S&V
LATEST VIDEO