Samsara, Sleepwalk with Me, Hard Core Logo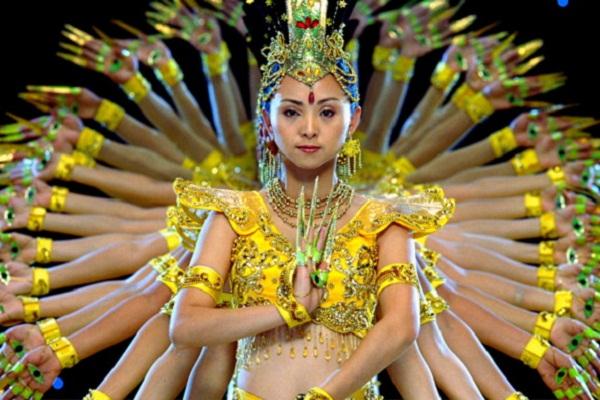 Up first we take a look at two very different films, both recent releases, but if you hesitated you missed 'em both on the big screen. The third,
Hard Core Logo
, came and went in 1996, but found its real audience on home video (thanks in part to a nice endorsement from Quentin Tarantino), only to be revisited now in a solid special edition.
Samsara (MPI)
Ron Fricke's much anticipated follow-up to his acclaimed Baraka is no less spectacular. The visually splendid Samsara (from Tibetan, meaning "the ever-turning wheel of life" has a narrative about as broad as we would expect from such a title, spanning 25 countries in an effort to chronicle the parallels between man's existence and the natural world all around us.
The movie was shot on 65mm film over the course of five years, and has now been mastered for home viewing at a mind-boggling "8K UltraDigital HD." (They had me at "8K," although obviously it's been downconverted for Blu-ray.) Narration-free and driven by a compelling musical score in DTS-HD 7.1, this documentary is unlike any other you're bound to see, and it is also downright magnificent demo material for your HD home theater system.
Sleepwalk with Me (IFC Films)
Author of an off-Broadway play and bestselling book of the same name, Sleepwalk with Me director Mike Birbiglia stars as a frustrated standup comedian who blows it with his girlfriend, then finds himself sleepwalking through a series of absurd misadventures. Birbiglia (hard to pronounce but also hard to forget one you see this movie) evokes a classic comedic spirit while creating something wonderfully fresh and original, pushing the boundaries of the rom-com in a welcome, refreshing way.
Screenwriting aficionados will want to stay tuned for the Writer's Guild Q&A with Mike, This American Life's Ira Glass and golden boy Joss Whedon. There's also an entertaining audio commentary, outtakes, and quite a bit of behind-the-scenes/"making of" content.
Hard Core Logo (VSC)
Filmmaker Bruce McDonald's cult gem follows the brink-of-disaster reunion of the fictitious punk rock band Hard Core Logo. Rock 'n' roll drama born of big egos and old wounds has been done before and since (imagine if This Is Spinal Tap didn't go for the funnybone) but seldom with such brains, heart and honesty. VSC's new "All Access Edition" has been restored for Blu-ray and arrives in a strangely appropriate steelbook package.
While lightning did not strike the same spot twice for Hard Core Logo 2, the sequel's inclusion here is a happy bonus, along with its own director commentary to balance that on the original feature. There's also a music video, an excerpt from the book about the movie, and more, some exclusive to Blu-ray.