Russound A-BUS A-BK1 Four-Zone Music-Distribution System Page 2
The A-CB4 and IRB-5 connecting blocks work in conjunction with one another, and Russound recommends that you install them in a double-gang electrical J-box with a dual-gang Decora wall plate. The audio signal enters the network via the pair of RCA jacks on the A-CB4. There's also a set of outputs and a connection for the included A-PS power supply on the front of the A-CB4. Since the power supply connects to the front of the block, you don't need to run AC wiring inside the wall, so there's no need to hire an electrician. The CAT-5 wire from the four keypads connects on the back of the A-CB4, so it's pretty crowded, but it still fits in a standard electrical box. If you want to expand the system, you can daisy-chain the audio outputs from the front of one A-CB4 to the inputs on another.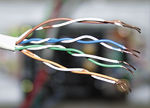 The IRB-5 is a simple block with four 0.125-inch mono plugs that line up in a neat vertical row. This piece is a passive in-wall block that connects all the remote eyes in the A-KP keypads with the source components. You can connect up to four optional IR emitters (using dual emitters, you'll be able to control up to eight pieces of gear) to the IRB-5. Once connected, each A-KP passes along infrared commands from your components' remotes or a programmable remote. At the bottom of the block is the female connector for the optional 846C power supply.
Operating the system is very straightforward. Like the keypads themselves, the single A-KP RC remote offers zone-on/-off and volume-up/-down commands; however, if you install the optional emitters in your main system, the keypads' infrared eyes will pass most gears' remote-control codes. I wish Russound had included one of their programmable remotes, but at least you can use the simple A-KP RC remote to program any learning-capable remotes you may already own. You'll probably want to add a remote for each room because it's a major pain in the butt to have to leave the room to change a CD or radio station. When you turn on the keypad, the volume comes on at a very low level, regardless of how loud you had it before—a very welcome precaution. It would've been nice if Russound had programmed the keypads to wake up when they receive a volume-up or -down command (in the off mode). Interestingly, the keypad's eye will pass other components' infrared signals even when the keypad itself is off. Once on, volume control is very smooth and quiet.
Considering the keypads' relatively low power rating, it's hard to believe that they'd offer much in the way of fidelity. Yet, the system sounded surprisingly good overall, and playback didn't seem to be affected whether one or all four zones were active. For speakers, I used everything from a Polk/Definitive Technology sat/powered-sub combo to an old pair of Pinnacle bookshelf speakers to Def Tech BP2006TL powered towers to (somewhat sacrilegiously) a pair of Vienna Acoustics Mozarts. For casual listening at low to moderate volume levels, the system performed amazingly well. It was only at higher volume levels with the more-serious speakers that the system's limitations began to appear. The A-BK1 lacked the image depth and fine focus you'd get from a dedicated amplifier, but it isn't designed to replace your main system. Use it to run speakers in your bathroom, bedroom, kitchen, or home office, and it'll work just fine. However, if you have an extra-large room or really inefficient speakers, or if you absolutely love to crank up the music, you'll need to add an amplifier to that zone because the A-KP keypad just doesn't have enough power.
In addition to limited power, the system has a couple of other drawbacks. While the number of keypads is virtually unlimited, there's only one audio input, so all of the zones have to share the same source (although they will play at different volumes). In addition, there's no video input, so forget about piping the picture from your DVD player to your bedroom. Ditto for the digital output. None of these issues would be a problem for me in my home, but your situation may be different. Russound has plans for a multisource-input add-on in the near future.
Factoring in modest in-wall or bookshelf speakers and a decent install crew to do the job right, you should be able to add four rooms of audio to your home for well under $2,500. That's about $600 per room, which is a pretty good deal. Since the A-BK1 system is very simple to install, you could make it a real steal by doing it yourself (and become intimate with your attic in the process). Simple to install, easy to operate, looks great, and sounds good—what more could you want out of an audio network? Just don't ask it to do Windows….

A-BUS A-BK1 Four-Zone
Music-Distribution System $999
Russound
(603) 659-5170
www.russound.com
Dealer Locator Code RSD
LATEST VIDEO