Russound's X Marks the Audio Spot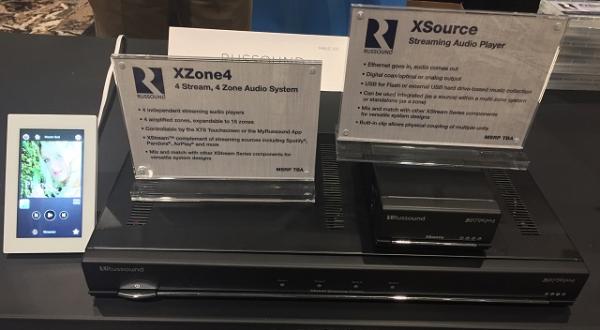 Russound expands its XStream whole-house wireless audio systems with the introduction of the XZone4 four-stream/four-zone audio system, XSource streaming audio player, and XTS color in-wall touchscreen controller. All of these new components are designed to expand the capabilities of Russound's XStream wireless audio systems.
The XZone4 system is designed to be a single-component solution that is easy to set-up and delivers four independent amplified audio streams to four rooms. In addition to the speaker outputs, analog audio outputs are available for each zone, configurable as fixed or variable for flexibility. The XZone4 delivers native support for high-resolution audio sources up to 192/24-bit as well as the full complement of sources available in all of Russound's XStream products including AirPlay, Pandora, Spotify, Sirius/XM, vTuner, Tune-In and DLNA. The system can be scaled up to 16 total audio zones by linking additional XStream series products.
The new XSource has a small form-factor, ideal for connecting to an existing amplifier or AV receiver. The XSource offers both coaxial and optical digital outputs as well as analog, and the full complement of XStream sources available including high-res audio.
For always-on control over the system, Russound's new XTS Touchscreen is a high-resolution 4.7-inch in-wall controller that runs an embedded version of the MyRussound app. The system features a dual-core Cortex-A9 processor for zippy operation and can control any zone within a Russound system. The XTS connects to the network and can be powered via PoE or local 12-volt and fits in a 1-gang mounting ring.
All products are expected to ship in December.