Rush: Live Pictures
"We've got about 6,000 songs to play for you tonight," Geddy Lee said to raucous cheers during the first set break at Rush's return to Madison Square Garden last night. Well, give or take some 5,974 other choices, the Canadian trio powered through 26 tracks at the NYC stop of the Time Machine 2011 tour. The set has remained the same since the two shows I saw last summer (Jones Beach in July, PNC Bank Arts Center in September), but hold your fire—the musicianship and vigor never waned. And there're always a few improv-oriented segments—Neil Peart's ever-evolving drum solo, the adventurous instrumental "Leave That Thing Alone," the intro and outro for "Closer to the Heart," the nod to "Cygnus X-1" during the finale —to keep us eagle ears at full attention.
In the first set, the thematically appropriate "Time Stand Still" (complete with Aimee Mann's floated-in backing vocals) stood tall alongside Snakes & Arrows' aggressive "Workin' Them Angels," the muscular new track "BU2B" (Twitter-era shorthand for "Brought Up to Believe"), and the set-closing "Subdivisions" (one of the band's defining, most relatable tracks for many fans regardless of age/generation). The show's centerpiece — a complete run-through of the just reissued Moving Pictures — opened the second set and kept the crowd on its feet.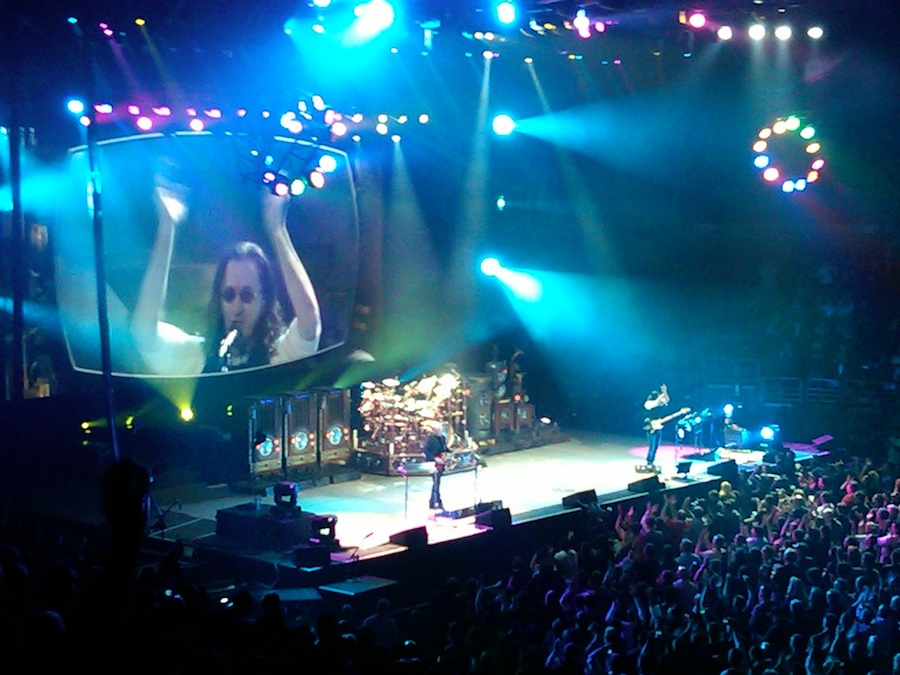 The drive of the 10-minute song that opens Side 2 of the LP, "The Camera Eye," was especially poignant, with the invocation of the hustle and bustle of the "chase through the streets of Manhattan" reflected both in the groove and the NYC city-life visuals on the monstrous screen behind them before the song crossed the pond to parallel life in London. But the most interesting aural moments of the evening happened during the album's palpable closer, "Vital Signs," with Geddy's bassline and Neil's kick drum reaching thunderous levels while guitarist Alex Lifeson squeezed out jagged reggae-influenced riffs. "We recorded that album when Alex was two," joked Geddy before the band dove into another driving new song, "Caravan." Come encore time, the reggae influence returned in the intro shuffle of the perennial fan-favorite "Working Man."
Wanna catch 'em in your city before time stands still? Check the remaining tour dates.
LATEST VIDEO