Roost's RSA-400 Smart Smoke Alarm Stops Chirps, Sniffs Methane, and Saves Lives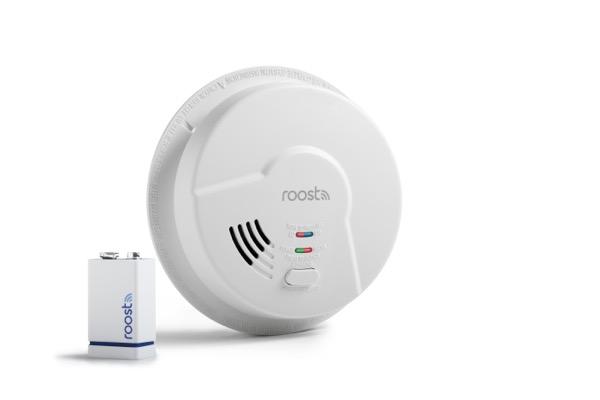 I wish smoke alarms were sexier. Most of them are dull, white pucks that try to look as unobtrusive as possible. Even the squarish
Nest Protect
with the swirling perforation pattern on the cover isn't something that most people will want to highlight as it hangs on the wall or ceiling. But there's no doubt that smoke/carbon monoxide alarms save lives. The American Red Cross says that the organization's
Home Fire Campaign
, which has "a goal to reduce fire-related deaths and injuries in the US by 25% by 2020" by getting more smoke alarms installed in more homes, has already demonstrably saved 111 lives in the short time since the program began in 2014. And since it's recommended that you should check the working status of the smoke alarms in your home on the days when Daylight Saving Time begins and ends every year, it's a good time to take a brief look at
Roost's
brand new and—at $80 MSRP—nicely affordable RSA-400 Smart Smoke Alarm.
I've written about Roost before, not long after the company released its first product, the Roost Smart Battery. For $35, the Smart Battery can add internet/app connectivity to just about any existing 9V battery-enabled smoke or CO alarm. Of all the benefits the Roost Smart Battery adds to a standard smoke or smoke/CO combo alarm, the one that (in my opinion) darn near makes the gadget worth the money all by itself is the capability of the battery to notify the user when the battery level is running low. If you've ever been awoken in the middle of the night by a mysterious, intermittent chirping noise that took forever to discover the source of—eventually you'll realize that it's one of the smoke alarms in the house—you'll immediately realize the value of being notified of a nearly drained battery via an app on your phone rather than by the sonic beep-beep equivalent of Chinese water torture.
Other niceties of the Roost Smart Battery include smartphone notifications of the smoke alarm being triggered while you're out of the house, the ability to have emergency alarm alerts automatically sent to people you designate, and a super-handy method of silencing a false alarm using the Roost app. If you have more than one smoke/CO alarm in your home, you can install a Roost Smart Battery in each alarm and monitor them all simultaneously in the same app.
The Smart Battery was Roost's clever retrofit solution for upgrading existing smoke/CO alarms. The new Roost RSA-400 Smart Smoke Alarm builds on the original product's concept by taking a Smart Battery and sliding it into a sophisticated fire/smoke/CO/and natural gas detector.
The Roost RSA-400 is essentially two products in one, something you notice as soon as you open the box it comes in. Sitting in the middle of its plastic packaging on top of the round, white smoke alarm underneath, a Roost Smart Battery poses like a jewel in a showcase. It's the same Smart Battery you can buy individually to upgrade old alarms, so all of the previously mentioned benefits come with the RSA-400, too.
The second part of the RSA-400 is a smoke detector; but, unlike the old el-cheapo alarms so many of us "rely" on in our homes to alert us to dire domestic fire dangers, the RSA-400's detector is serious cutting-edge stuff. Roost says it incorporates Universal Smoke Sensing Technology™ (USST) that uses "microprocessor intelligence to detect fast flaming fires and also respond very quickly to slow smoldering fires — up to 87 percent faster* than the maximum allowable alarm limit." Fires, by the way, can double in size in as little as 30 seconds, so speedy detection is extremely important.
Accuracy, though, is just as crucial as speed, because a smoke alarm that goes off any time someone in the house burps will soon have its battery swiftly removed and promptly forgotten. Unfortunately, an alarm with no battery is just as useless as one with a dead battery. The National Fire Protection Association (NFPA) reported in September of 2015 that almost half (46%) of the non-working smoke alarms present in homes that experienced fires didn't function due to missing, disconnected, or dead batteries.
Roost says the USST it uses in the RSA-400 makes it very resistant to nuisance alarms. The company points to a University of Maryland's School of Fire Protection Engineering study that stated "…alarms using this technology are observed to have nominally equivalent nuisance alarm immunity to photoelectric smoke alarms in kitchen scenarios, and are more resistant to nuisance sources near bathrooms than photoelectric smoke alarms. They are more resistant to nuisance alarms than all other smoke alarms utilizing an ionization sensor."
The RSA-400 uses a 4-in-1 sensor that's capable of detecting smoke, fire, carbon monoxide (CO), and natural gas (methane). As a result of these capabilities combined with its high resistance to nuisance alarms, the RSA-400 can be used in just about any room in your home. (The NFPA recommends installing smoke alarms "inside each bedroom, outside each sleeping area and on every level of the home, including the basement." You can also contact your local fire department if you have questions about where to install smoke alarms in your home.)
Although the 4-in-1 sensing in the RSA-400 is sensational, it does bring with it one potentially huge disadvantage—the RSA-400 must be hardwired to your home's electrical system in order to operate. Lots of homes have existing hard-wired alarms that can be swapped for an RSA-400 with relative ease. If you're not replacing a hard-wired alarm, though, you're going to need an electrician to run AC wiring to your new RSA-400's location. In case you're wondering, the Roost Smart Battery that's included in the RSA-400 package is for backup power only (in addition to providing the connectivity, of course).
The Roost RSA-400 is available now with an MSRP of $80. A 2-in-1 smoke/fire-only version, the RSA-200, is available for $60.
*UL217 Smoldering Smoke Test on 5/26/10, Underwriters Laboratories, Project #09CA38078