Roku Dongle Announced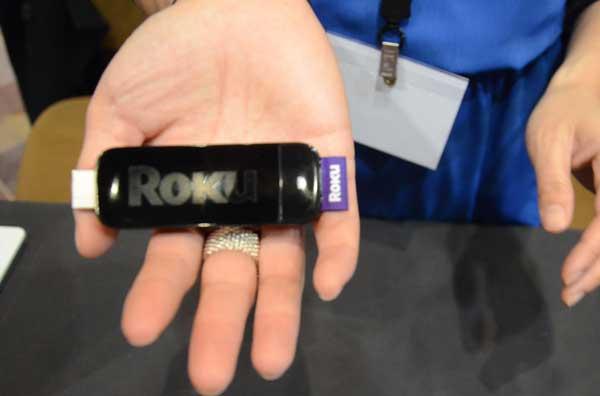 Roku showed a network media player that is simply a large dongle that connects directly to your TV set. Shrinking the already small Roku 2 design even more, the new device doesn't reduce the content or experience.
The Roku dongle will connect to an HDMI port on your TV. It will not come with its own remote. Instead, once connected, you can use the TV remote to navigate the Roku's home screen, channels and to control playback.
The Roku dongle does not plug into the wall and has no power adapter. The device gets its power from an HDMI port that is MHL compatible. MHL is a specification that allows a connected device to be charged at the same time that it is playing. MHL is presently found on a number of mobile phones and tablets. Both the device and the TV must have MHL enabled ports. There are MHL adapters available to connect a MHL phone to a standard TV. However, there is not yet an adapter that would connect the Roku dongle directly to a TV that does not have MHL.
Though the Roku representative stated that the Roku dongle will be released in 2012, there is no indication of whether it will be before summer or at the end of the year.
LATEST VIDEO
WHERE TECHNOLOGY BECOMES ENTERTAINMENT