Roku Announces Streaming Stick 4K and Roku OS 10.5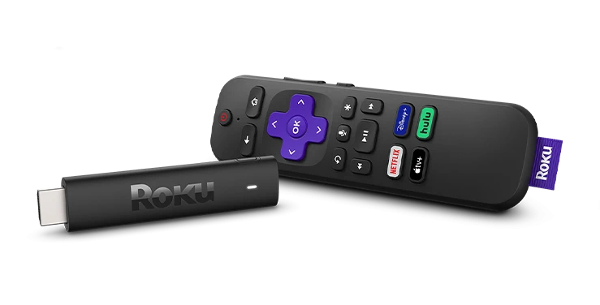 Roku is upgrading its operating system and has announced plans to release a new Roku Streaming Stick 4K and Roku Streaming Stick 4K+ in October. The new Roku OS 10.5 promises to speed up content retrieval and improve Roku Voice commands in addition to adding wireless surround sound and streamlined audio adjustments.
Roku Streaming Stick 4K: Small and Powerful
"The Roku Streaming Stick has been a fan favorite for years and we've redesigned it in the Roku Streaming Stick 4K to be faster and more powerful than ever," said Roku VP Mark Ely. "It's super-charged so you can stream in beautiful 4K and Dolby Vision even at a distance from your router and tucked neatly behind your TV."
The Streaming Stick 4K replaces the popular Roku Streaming Stick that has been in the company's lineup since 2017. This fit-in-your-TV port dongle now has Dolby Vision and HDR 10+, making it one powerful little stick with enhanced video capabilities. Roku says the stick's new quad-core processor boots 30% faster at startup or when starting to stream a video, launches channels more quickly, and expedites navigation.
Thanks to an improved long-range Wi-Fi receiver, the new stick is also said to stream at twice the speed of its predecessor. The current Roku OS identifies when another Wi-Fi band is streaming at faster speeds and will recommend switching to a better connection for a more robust streaming experience.
The Roku Streaming Stick 4K comes with a voice remote that can also control the TV; the 4K+ bundle takes things up a notch with the inclusion of a Roku Voice Remote Pro featuring far-field communication so you can control the stick from across the room without having to pick up the remote.
The Streaming Stick 4K and the 4k+ bundle with the Voice Remote Pro are slated to ship October 14 at $50 and $70, respectively.
Roku OS 10.5 Brings New Features
The upgraded operating system makes it easier to access Live TV and log in, and provides expanded voice control and new audio enhancements.
Easier Access to Live TV Channels. A Live TV Guide icon now appears on the home screen instead of within the Roku Channel, making it easier to access the more than 200 free "live TV" channels (with commercials) Roku offers. Of course, the fastest way to open the Guide is through the Roku voice remote.
Improved Voice Control. Roku OS 10.5 brings voice control to more channels. You can now use voice commands to access almost any channel that appears in Roku search results, including Netflix and Spotify. Results are now displayed when you search for titles within a channel — you don't have to back out to see global search results — making it easier to find TV shows or songs and artists in the case of Spotify.
Even if you are familiar with Roku voice control, there are likely commands you don't know. Roku Voice Help, available in the settings menu, provides tips for getting the most out of voice control, including a list of command phrases for accessing movies and TV shows, launching channels, and playing/controlling music.
Simplified Log-in. Instead of using an annoying onscreen keyboard, you can now use voice commands to dictate email address, user name, password, and PIN. Keyboards that support this functionality display a microphone icon.
Enhanced Sound. OS 10.5 supports full 5.1 surround sound. Instead of the front left/center/right channels coming from the Streambar, you can now add a pair of wireless speakers for the front left and right channels and the Streambar becomes the center channel speaker. Add a subwoofer and two wireless rear-surround speakers and you have a discrete 5.1 experience.
Roku has also improved the AV sync feature; it now automatically adjusts to the type of headphones connected. If, for example, you are listening through the Roku Mobile app, you can scan a QR code that allows the Roku device to adjust audio delay (based on distance from the device), if necessary.
As a side note, TCL is coming out with a Roku-ready wireless soundbar that will sell for $180. When paired with a Roku TV, the soundbar's settings and controls appear on the TV screen.
Improved Mobile App. The Roku mobile app now provides access to TV sound settings so viewers can easily adjust audio settings while viewing a show. Settings available through the app include Night Mode, Auto Volume Leveling, and Speech Clarity.
The updated app also makes it easy to browse movies and shows and save the titles you want to watch for later viewing. In another update, the app's home menu now shows Roku Zones — Comedy, Horror, Action/Adventure, etc. — which makes it easier to discover something you may want to watch.
Roku OS 10.5 and mobile app upgrades are rolling out now, starting with Roku streaming devices. Roku TVs will be upgraded last.