R.I.P. - Ray Manzarek of The Doors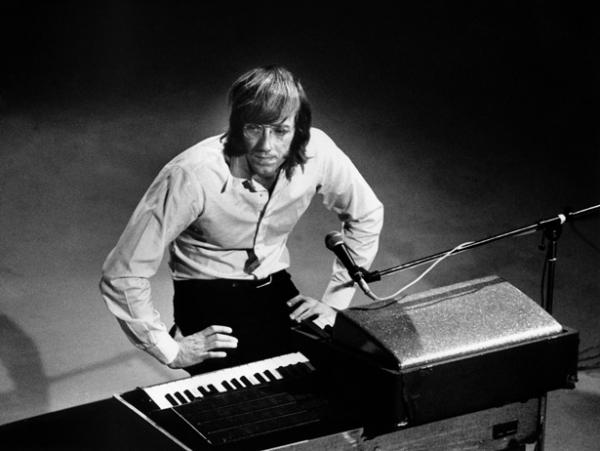 The Doors' keyboard whiz Ray Manzarek died in Rosenheim, Germany on May 20, age 74. I had the privilege of speaking with Ray twice for S&V, most recently in early 2008, when we discussed such things as the warmth of vinyl, how to perceive surround sound, and who's playing in that great band in the sky. After that interview first ran, Ray sent me a note to say how much he enjoyed reading it and how well he thought we dissected the sonic essence of the Doors. Thank you, kind sir, and thank you for creating such mind-expanding music. Now you're finally the one manning the keys in that dream lineup, Ray. Rest in peace.
METTLER: Are you happy with how Eagle Vision's Classic Albums DVD of The Doors turned out?
MANZAREK: I think it's great. Somebody said to me, "Gee, you guys are still willing to talk about it." And I said, "Well, of course. We loved making the first album. We had a lot of fun." Why? Because the first album is the culmination of everything you've been working for since you had the very idea to do it.
They interviewed everybody about that first album - there's me, John [Densmore, drummer], Robby [Krieger, guitarist], Bruce Botnick [engineer], Bill Siddons [manager], and Jac Holzman [founder of Elektra Records]. The tragedy of it is that Paul Rothchild [the Doors' late producer] wasn't around to be interviewed. He's running the show at the Roadhouse up in heaven, where all the rockers are. Jim [Morrison] is up there, along with Janis Joplin, Jimi Hendrix, Keith Moon, John Entwistle - what a band they've got up there! That's the band. And then the jazz guys come in, too - Miles Davis, John Coltrane. It's like a Roadhouse on the outskirts of town at the edge of heaven. What's great about it is you can drink all you want and never have a hangover. [both chuckle]
METTLER: Geez, you make it sound like we should be there right now.
MANZAREK: Well, all in due time. First we got a job to do down here: to present music to people to open the doors of perception of their minds. That's what the Doors were trying to say: "Hey, wake up. Just wake up. And look around you. You're alive, you're on the planet, you're going to dance for your 70-80 years on this planet. Make the most of it. And make love, not war."
METTLER: The interviews were the key to this DVD's success. You had all the right people there instead of the cookie-cutter kind of stuff you see on retrospectives on certain TV channels.
MANZAREK: Yeah, well, you know, they did a real good job. Most everybody's there, everybody's alive, everybody's looking good. You know, Jim [Morrison] and I got together on the beach in Venice, California after graduating from the film school at UCLA, and we decided to put a band together. Jim had great lyrics and I could play the keyboards, so we both said, "Let's get a rock & roll band together." We had the initial conception in the middle of nothing there at the beach in Venice with the sun setting into the grand Pacific Ocean, standing on the end of Western Civilization.
Then we finally get into the recording studio after all those years of struggling, finding John and Robby at the Maharishi's meditation that I was involved with, working on the Sunset Strip, working at the Whisky-a-Go-Go, getting signed by Elektra Records, developing all those songs at the little club called the London Fog, playing five sets a night, for God's sake, on the weekends. We played and played and played, and developed those songs by working and working and working them. Get to the Whisky, turn the audience on, and then Jac Holzman signs us to Elektra Records. Nobody in Los Angeles would sign us. We walked the streets with our demo; we couldn't get signed! It took a guy from New York City to understand the music of the Doors. And then you get into the recording studio, and that's everything you've been working for. All you want to do is get your music on a disk, and get that disk out to the world and say, "Hey world, we are the Doors. Check this out, man. Open the doors of perception." So that's why we're so excited about the first album, and that's why everybody still loves the first album.
METTLER: It is a timeless record. I like how the Doors' music is perpetual. Every generation discovers it.
MANZAREK: Isn't it amazing? Depending on how hip they are, how smart they are, how intelligent they are, kids at 13, 14, and 15 years old get turned onto the Doors. You hear the Doors for the first time and it's like, "What is this music? Who are these guys?"
METTLER: There really isn't anything else like it. Considering all that came out during that era, you can't say the Doors are like anybody else.
MANZAREK: You're right. We're really unique. But I didn't think we were particularly unique at the time. But now, after seeing all that happened in the '60s, I agree: The Doors are unique. It was that flamenco guitar of Robby Krieger - he actually plays with his fingers, you know; that bottleneck guitar thing is amazing. It was Densmore's hard, marching drums. Manzarek's left-hand bass and organ at the same time - how does he do that? Morrison's strange, surrealistic poetry. And the jazz, the classical, and the blues. We were all into the blues. So you put all of that together, and that's the Doors.
METTLER: The background, the foundation you had, the way you were able to improvise...
MANZAREK: You know what, man? Everybody studied their instrument. Everybody practiced. Practice, practice, practice. That's what you've got to do.
METTLER: You think of other artists of the era who had that kind of jazz background and knowledge - Jack Bruce, Ginger Baker, Mitch Mitchell...
MANZAREK: Absolutely. I never considered myself a jazz musician - I play rock & roll - but that jazz influence is there. Miles Davis is in my music; so is John Coltrane. John Densmore was a big fan of John Coltrane and Elvin Jones, the drummer. So yeah, jazz was a big influence on the Doors.
METTLER: The Doors' Vinyl Box Set just came out in a limited edition of 5,000 on Elektra/Rhino. Which songs sound the best on it, and why?
MANZAREK: Well, okay, I'm the keyboard player, so I gotta think of the organ and "Light My Fire" on the first album. On CD, the Vox Continental sounds a little edgy and a little thin to me. It's got a bottom to it, no doubt about that, but it just has a bite that I'm not really happy with. But when I hear it on the vinyl box, it's like, "Ahhh, there's the sound. There's the Fender amplifier." You know, you put a Vox through a Fender Dual Reverb with a pair of 12-inch speakers, and oooh - that sound is loud, full, and fat, with some edge to it, but it's got a warm, round middle section. That's what the LPs have that the CDs don't.
And that's just the first album. The second album, Strange Days, is my favorite album, because that was done on 8 tracks. The first album is 4 tracks, essentially the Doors live at the Whisky-a-Go-Go. The second album is the studio experimentation. What we do on that one is we get to play the recording studio. Paul Rothchild said to me and Robby on the first day, "Come here, I want to show you something. Look at this machine." It was the Ampeg. "So what?" I said, "That tape is kinda wide, isn't it?" And Robby said, "Is that what I think it is?" Robby got it right away. "Is that 8-track? Holy shit - everything we did on the first album we can do here, and have 4 more tracks. Overdubs? Wow." That was when we learned how to play the studio. Just incredible. It's my favorite album.
And The Soft Parade has all those great horns and strings. That'll sound so big when Jim sings, "I'm gonna love you" on "Touch Me." You're gonna really hear those strings. It's almost symphonic, for God's sake.
METTLER: And then there's "Runnin' Blue" . . .
MANZAREK: "Runnin' Blue" has got every kind of music known to man in one song! [chuckles] That's a good one, too, with the country pickers and the jazz cats, and all sorts of stuff going on.
You're gonna get everything. Morrison Hotel is just a rocking, bluesy thing - the Doors get back to their roots. And then at the very end of the box set, you get to hear "Riders on the Storm." Ooh, that sounds good on vinyl.
You know, I love vinyl. I've heard from audiophiles about "the sound." In 1967, of course, you didn't know there were going to be such things as CDs. Vinyl - that was it. The sound was so good, and so warm, and so rich. Some old timer said to me, "You should have heard 78 rpms. That vinyl was so thick." He said that's why the sound was so good - the vinyl was so thick, the grooves were so deep, and it's moving so fast. He said it sounded incredible. Of course, you only got like 3 minutes of music…. You'd have to change it three or four times just to listen to "The End."
I remember when I got my first CD player and first CD, which was digitally recorded, not transferred from analog. It was Yo-Yo Ma, the cello player, playing solo cello sonatas. So I put the thing on, and my wife Dorothy said after about 2 minutes, "Gosh, I can't stand the sound - it's so edgy." And if you think about it, the bow across a cello string has a grind and a grit to it that you don't normally hear, but you put that into a digitally recorded CD… we both went, "What have we done here?" It's deep, with a big bottom, and there's a high end up there, but man, the irritation of it - our nerve ends… we're acid heads. You can't do that kind of stuff to acid heads! [both laugh] We're super-sensitized! I'm telling you, man.
METTLER: What did you think of the six-disc Doors surround-sound box set, Perception, that Rhino released in 2006?
MANZAREK: Oh, I loved that. That's the real wave of the future - or at least it should be. We may not change out of rock & roll, but we're gonna change the way we listen to music so that we're operating in 360 degrees of sound. Where's it gonna go? I don't know, man. Whatever happens, it's gonna be a very poetic use of aural space. A revolution in music.