Review: Wren V3US and V3USP Wireless Speakers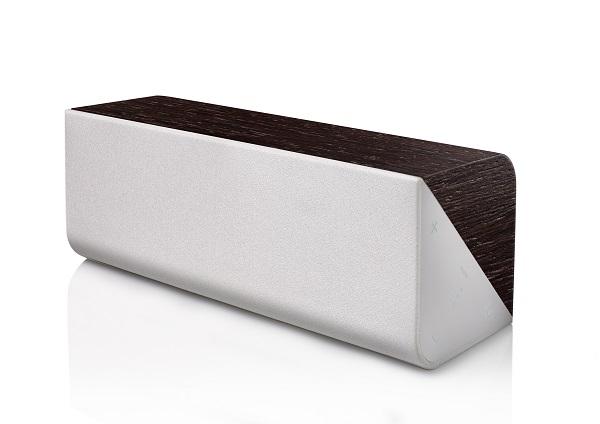 In a world overcrowded with wireless speakers, Wren is carving out a niche and a name for itself as a higher-end alternative to plastic me-too models. The older Wren V5PF12 model has long been a favorite speaker in my office, so when pre-production samples of two new models became available, I jumped at the chance to audition them.
Slightly smaller and less expensive than the previous models, the V3US and V3USP retain the functionality of providing wireless playback in a soundbar-style speaker. In particular, the new models support WiFi via DTS Play-Fi, and will offer compatibility with Apple AirPlay. They also support streaming from iOS, Android, Mac or Windows devices in multiroom configurations, as well as aptX Bluetooth which comes in handy when you want your music in places your WiFi signal doesn't reach, like a garage or a patio. The two new models are essentially equal; the only difference being that the V3UP15 can also be used sans wall outlet, thanks to its rechargeable lithium-ion battery.
The speakers measure 12(w) x 4.5(h) x 4.5(d) inches; a curved lower edge gives them a touch of style. The V3US weighs 6.3 pounds while the battery-equipped V3USP weighs 6.8 pounds. Those hefty numbers speak to the very solid construction quality using 0.5-inch MDF wood cabinets with MDF internal bracing, wrapped by real-wood veneers. The bottom has a soft silicone rubber mat while the front has a cloth face. You can choose almond anigre wood with a black grille, or espresso wenge with a white grille.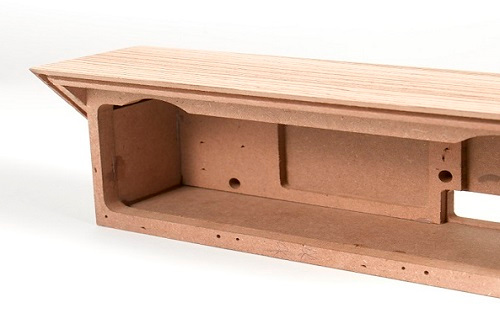 The rear of the cabinet has the following: set-up button, 3-position bass EQ switch, Ethernet via RJ-45 to USB adapter input/service port, aux in jack, reset button, and power jack for the external power supply. A side panel has soft-touch switches for selecting source (WiFi, aux, and Bluetooth), volume, and power. With the control panel on one side, you can position the speaker vertically or horizontally. The vertical orientation gives you a tidy footprint and the speaker looks particularly classy amidst the tall bottles in a liquor cabinet, or so I am told.
Inside, you'll find two 3-inch drivers and a 3.6 x 2.6-inch front-firing passive radiator. Power is courtesy a 15-watt/channel stereo Class D DSP-controlled amplifier. On the wireless side, the speakers operate at 2.4GHz/5GHz dual band (802.11 b/g/n).
The phone app is visually simple and its operation is straightforward, both of which are very good things. You can set up and name your speakers, set up stereo pairs, update the system, choose your streaming source (such as Spotify, Pandora, Amazon, Tidal, iHeartRadio, Internet Radio, etc.), create zones, turn on one or more speakers, adjust their volume, etc. Pairing is painless and reliable.
You can connect up to sixteen Wren speakers on a network for synced playback. You can also stream music from one device to different zones, or use different devices to stream to different speakers. Here is the connectivity info you'll need: aptX Bluetooth; Play-Fi/Android 2.2 and later; Windows 7 and later; iOS 6.0 and later with the Play-Fi iOS app; Mac with OS X and later; iTunes 10.2.2 and later; and will offer AirPlay compatibility with iOS 4.3.3 and later.
Sometimes I spend hours listening to a speaker, trying to decide if I like it. Other times, I just instantly know. Wren speakers (both the old and the new) fit in the latter category. Upon first listening, I immediately bonded with them. They are tuned by John Crisco, Wren's director of product development and engineering, and apparently, at least sonically, we were separated at birth. A dark sound is exactly what I prefer in a loudspeaker, and the Wrens give you that. Don't misunderstand me - not muddy, not boomy, not thumpy - but smooth and warm. Of course bass response is limited with a cabinet and drivers of this size, but thanks to the passive radiator, and probably the MDF construction as well, the low end is much more satisfying than what you usually find in small speakers, and it is expertly balanced with the higher end.
You can almost never cheat the laws of physics. You can easily spend a ton of money and get terrible sound, but it's extraordinarily difficult to spend modestly and get terrific sound. These Wren speakers sound like money.
Speaking of money, the V3US retails for $399 and the portable V3USP retails for $449; both will be available in January, 2016. Wren informs me that they are offering a $100 pre-order discount for customers who order by December 18 and all orders will be filled by Christmas; details can be found at wrensound.com.
The Wren V3US and V3USP are not made of recycled or any other kind of plastic; they do not look like they were designed by an 8-year old; they do not sound like they were tuned by an 8-year old; they do not have colored LEDs that dance to the music; they do not take selfies. Instead, these Wrens are solidly built wooden-cabinet loudspeakers that combine classic upscale looks and excellent sound quality with the convenience of wireless. Old-school quality all the way.