Review: Sony NSX-32GT1 32-inch Google TV Page 3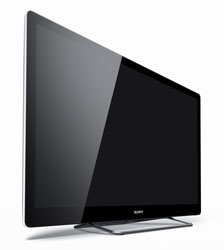 The TV
The TV itself is a pretty typical late-model Sony LCD. It's an edge-lit 1080p LED model, though only 60 Hz. Aesthetically, it's as attractive in person as it is in the pictures accompanying this review. Inside there's 8 gigabytes of storage (a cache for streaming, mostly).

Video processing is decent: The 3:2 sequence is picked up rather slowly with 1080i HD sources, but it does get picked up. With standard-def 480i, the processing is much faster.

Using the revolving bar pattern on the Spears and Munsil HD Benchmark Test Blu-ray, the Sony starts showing some jaggies around 10, which is right on the cusp of the green (good) area. The Ship clip on this same disc, a video deinterlacing test that uses actual video, showed similarly decent performance. With 480i signals entering via component video, jaggies became visible around the 30º mark on the HQV Benchmark DVD's test pattern, which isn't great.

The NSX-32GT1 is capable of resolving a 1-pixel on/off pattern both horizontally and vertically, which indicates that it display signals at full 1080p resolution, but only after you turn off the "Auto Setting" in the Display area portion of the Picture & Sound menu. It also does an adequate job of scaling 480i material like a DVD or movie streamed from Netflix. Overall, the image is softer than I've seen with other Netflix streaming devices and decent Blu-ray players. Even Apple TV does a better job upscaling standard-def Netflix content. Given the size of this TV, this isn't a deal breaker.

Grayscale tracking is, for the most part, good. Out of the box, its Warm 1 color temperature preset was about 800 K too cool, and Warm 2 was about 700 K too warm, but both tracked well down to about 10 IRE. At that point, dark areas of the picture take on a blue-ish tint. (This is true with many LCD displays.) Calibration using the RGB gain and bias adjustments available in the user menu results in a spot-on color temperature, though the cool drift in darker images remains.

The NSX-32GT1's color points are largely undersaturated, which is odd for a Sony TV. Red is most undersaturated, and Blue is somewhat undersaturated as well. Green is only slightly undersaturated, though its also slightly greenish yellow. The effect of this wasn't overtly noticeable when watching TV and movies, though the Sony's image wasn't exactly the most vibrant I've seen from a TV lately.

The Sony's contrast ratio is good, averaging 2,500:1 in the various modes. (This is about average for a non-local dimming LCD.) I got the best contrast ratio with the backlight set to Min and Power Saving set to High. This resulted in a black level of 0.007 ftL and a max light output of 18.76 ftL, for a contrast ratio of 2680:1.

You don't have to move too far off axis for the set's black level to come up and the colors to start to wash out. (This is especially a concern with streamed content, as you start to see all sorts of compression artifacts even with high-def.) So don't expect to have a very wide viewing angle.

The Sony's UPnP capabilities, i.e. being able to stream content from the computers in your house, is spotty and the interface is rather clunky. I got it to finally recognize the files on one of my computers, but it couldn't play them despite having sharing enabled on the main computer.
LATEST VIDEO