Review: Panasonic TC-P55VT30 3D Plasma HDTV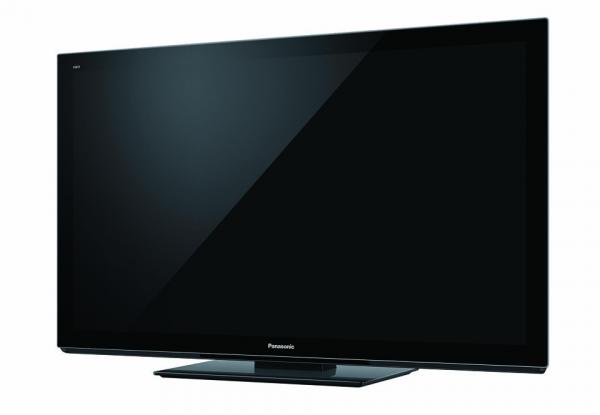 While Panasonic plasmas traditionally excel on the picture-quality front, they've lagged a bit behind other flat-panel TVs when it comes to style. Take last year's VT25 series. The picture on those sets was hard to fault (the 50-incher we reviewed won our 2010 Video Product of the Year award), but when positioned alongside new, ultra-slim plasmas from companies like Samsung, the Panasonic's 3-inch panel depth and thick gloss-black bezel rendered it caveman-like by comparison. However, the company's new VT30 series sets have undergone a style evolution, with the cabinet depth slimmed down to 1.5 inches and chunky bezels chucked in favor of an all-glass front surface. It's a decidedly sleek look — one that makes Panasonic plasmas a more attractive proposition than ever.
As you might guess, the TC-P55VT30 reviewed here is a 3D-capable model that can also convert 2D images for 3D display. Panasonic provides a single set of active-shutter glasses that recharge via a mini-USB port. (Additional pairs cost $160 each.) Other features include Wi-Fi-readiness (USB adapter included); a wide assortment of Internet media-streaming options, including Netflix, Amazon Instant Video, and Pandora; and local media streaming from a computer via DLNA. On the performance front, VT30 series highlights include a new Infinite Black Pro 2 panel, "fast switching" phosphors, THX certification (with THX 2D and 3D picture presets) and ISFccc modes for custom calibration.
The VT30's front is virtually button-free — its power button is located front and center at the screen's bottom, while other controls are tucked away discreetly on the right-hand side. On the left side is a row of 4 HDMI inputs along with 2 USB ports and an SD card slot for plugging in memory cards directly from a digital camera or camcorder. Additional inputs around back include PC RGB, component/composite video, and LAN; due to the panel's slimness, these all require plug-in adapters to make the hookup.
Panasonic's remote control has a backlit keypad. Its buttons are fairly large and the layout mostly logical, though it took me some time to memorize exactly where the Input and Screen Format buttons were located (far apart from each other, unfortunately). Large buttons labeled Menu, Viera Cast, and Viera Tools surround the remote's central cursor. Viera Cast takes you to the set's streaming menu, while Viera Tools calls up an onscreen bar with shortcuts to access 3D, DLNA, Media Player (for SD card), and other functions. Panasonic also offers a free Viera Remote iPhone app — with a keyboard for text entry, no less — to control its 2011 TVs. Talk about evolution!